Everything seems to be possible on the internet. You can almost sell everything too. People demand faster response time from any businesses, including from restaurants.
Some restaurants now offering a delivery order system, to catch up. If you are a restaurant owner using WordPress and you want to make an order system for your business, we recommend you to use a plugin.
Here is the list of some best restaurant plugins. We've compiled them for you to consider.
MotoPress Restaurant Menu

MotoPress Restaurant Menu is one of the best restaurant booking plugins. This plugin is free, no need to pay anything to enjoy its full feature. This plugin offers essential functions as a restaurant plugin to fulfill your need.
MotoPress Restaurant Menu plugin works best for pizza ordering system, fast-food ordering system or any typical food and drinks establishment, etc.
This plugin will enable you to easily create a menu list of your restaurant or cafe, complete with title, description, photos, price, and even ingredient list. There's a currency setting that allows you to customize your local currency. You also may customize the "add to cart and Buy button". 
Some other key features are built-in e-commerce capabilities. This function allows you to sell food online integrated with PayPal. Also, there is an option to pay with Cash on Delivery for a more traditional way.
Five Star Restaurant Menu

If you are looking for a proper restaurant plugin, you may try the Five Star Restaurant menu. It is a wonderful plugin crafted specifically to build a restaurant menu and order system on your website. This plugin is 100% free but there is a premium option available. No need to worry since the free version is fully featured.
This mobile-friendly plugin offers many essential features to build not only the restaurant menu but also building your restaurant ordering system. It is very user-friendly, there is a walkthrough or a full guided setup. The first time you activate this plugin, it will guide you to create your first menu.
Some key features of this plugin its possibility to create multiple types of menu, there is no limit. You can create very customizable restaurant menus.
There are some extra features such as Extra Gutenberg blocks, the ability to add multiple prices for a single item, and many more. These features are very useful to make your menu view looks neat and easy to understand.
TLP Food Menu

There are many WordPress restaurant plugins available on the market. One of the most popular is the TLP Food Menu. It is free and there is an option to buy the pro version.
TLP Food Menu offers many essential functions to build your restaurant menu. You can create a menu with all food item display, you may choose whether it is multiple or single categories on your page.
You can easily create the food item as an admin. You just need to quickly add name, description, Excerpt, image, and price without having to customize them one by one.
This plugin is fully responsive, fully HTML5, and CSS3. This is very important especially in this digital age where most people access websites from their phones and tabs. If you are looking for a simple and fast restaurant plugin with no need to customize many things than you may try this one.
Quick Restaurant Menu

Quick Restaurant Menu is one of the most reliable restaurant plugins available on the market. There are two versions, free and pro version. The pro version is much more customizable but doesn't worry the free version still looks marvelous, and you can always insert custom CSS.
As its name, Quick Restaurant Menu allows you to create a restaurant menu quickly. With its drag and drop builder feature, you can make and edit your menu items and description with no hassle. You can also add images and customize the size.
This plugin is fully responsive and works for almost every gadget available. While creating menu sections, you can add a header and footer to each menu. These menu items can be customized with pictures, descriptions, sizes, and prices.
The best feature of this restaurant plugin is this plugin allows you to show different menus based on a specific day/time of the week. As an example, you may show a different breakfast menu and lunch menu on the same page automatically.
WooCommerce Food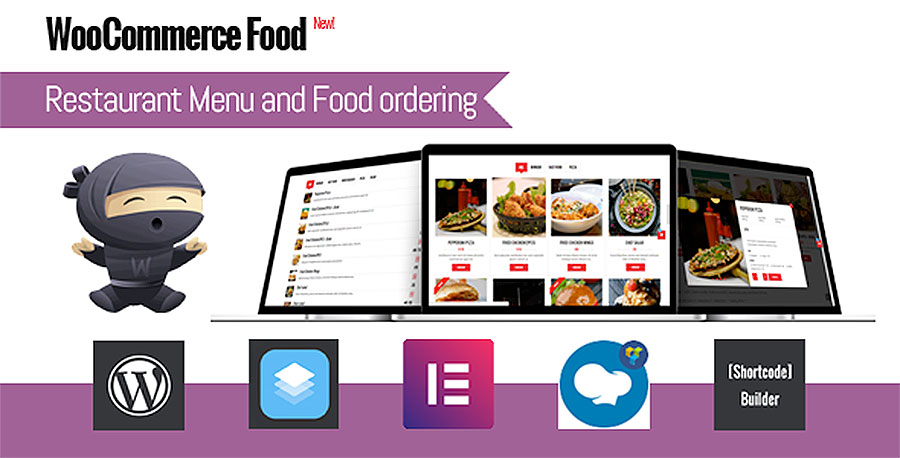 WooCommerce Food is a premium restaurant plugin supported by the pro system of WooCommerce. This plugin offers almost everything you need to build a restaurant menu and order system on your website.
By using this plugin, creating a menu list will be easy and fun. You can customize them with Grid, List, Table, Carousel(Slider view) with unlimited color and font as you like.
This plugin supports everything you need for a professional delivery system. Some of them are filter category, minimum amount, Delivery date and time field, Maximum Order Deliveries per time slot, Disable order food before X minutes or X days time Delivery.
Some other key features are multiple Payment mode. This plugin Support Paypal, Stripe, and a lot of other payment gateways. Besides, Your customer may also add Coupon code.
WP Food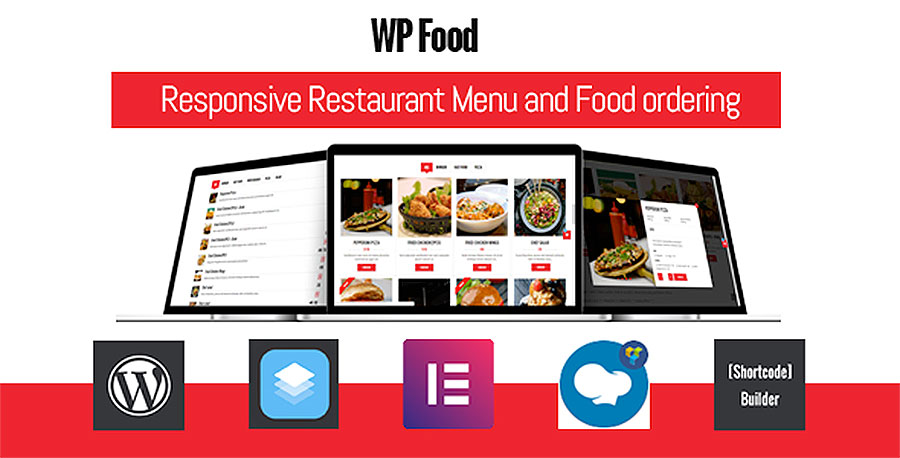 If you are building a restaurant, you may need this restaurant plugin. WP Food is a premium plugin that allows you to make ordering menu items seamless and hassle-free. 
By using this plugin, you can create and customize new food items easily. You can pick from more than 10 food styles available supported with unlimited colors and fonts.
When you use this awesome plugin, your customers can order your food easily. They just need 3 steps and the order will be created. They can pay with PayPal then they will get email notifications once the order placed.
One of the key features is the print order feature. It allows you to print the order created easily. As a result, you don't need to manually create an invoice.
Restaurant Menu for Visual Composer
Restaurant Menu for Visual Composer is a plugin that can add the restaurant menu to your visual composer plugin interface. This is not a standalone plugin, you need to make sure you have already installed visual composer plugin.
This plugin will allow you to create a simple but stylish menu item list page. You choose many styles such as the simple menu, bordered menu, background menu, and image menu.
You may also set dynamic pricing, this allows you to show multiple prices e.g. for 2 persons $5, for 3 Persons $7.5. Besides, you can add some labels like "HOT" or "NEW". 
This plugin is very beautiful in its design, it will work best for fancy restaurants you have, people will love the design.
ReDi Restaurant Booking plugin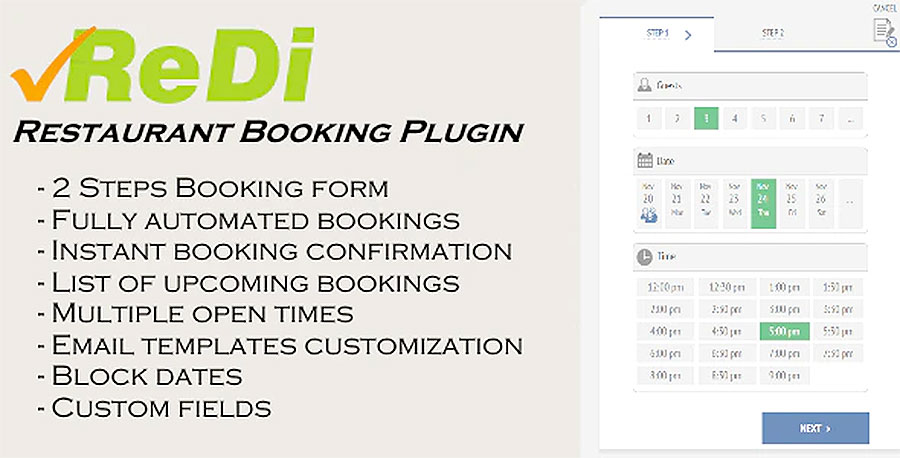 If you are searching for a restaurant plugin that works with reservations. ReDi Restaurant Booking plugin is maybe best for you. This premium plugin allows you to manage reservations for your restaurant business.
By using this plugin, your clients will be able to reserve the available spaces that your restaurant offer. It only needs 2 steps reservation form for your clients to fulfill, then you can manually confirm the reservations.
The reservation form contains essential things you need to know about the clients. Some information such as how many of them, date and time, and also their personal information can be acquired easily. Remember you can also set blocked dates and time shifts to avoid unwanted reservations.
As a mobile-friendly plugin, it is fully responsive and works best on different devices. It is easy to install and fast to use.
Foodlify for WooCommerce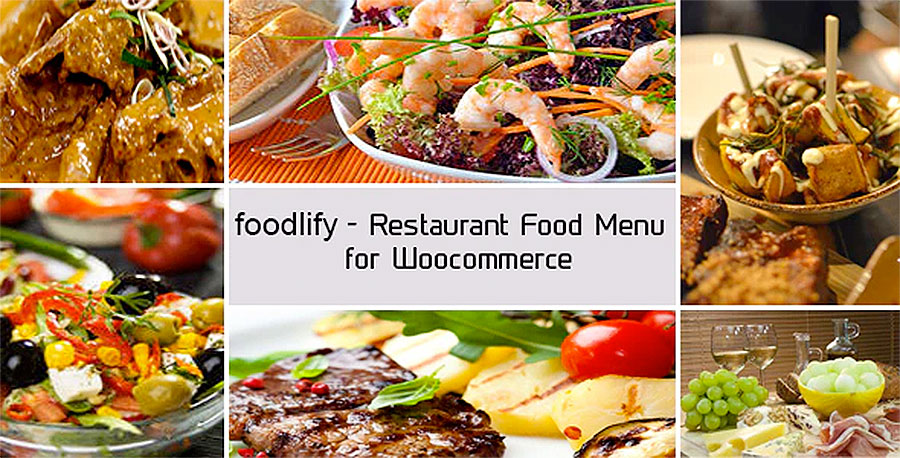 Another useful restaurant plugin is Foodlify. It is a premium plugin fully featured with essential functions to create and manage your food item list.
This mobile-friendly plugin offers many options in creating your food list page. You can add categories of the food, make it easier to navigate.
You can also customize to display name, image, price, quantity, and description. There are also other options to show mini-cart and choose from 8 different mini-cart templates to match the style you like.
You can always customize many elements to match your favor. It is possible to set the search button background, border, and text color. You can also custom menu, item name hover, and description color.
Restaurant Reservation for WooCommerce
Restaurant Reservation is a beautifully designed plugin that can help you with restaurant reservations. This premium plugin allows you to let your clients order a reservation to your small restaurant.
By using this plugin, you will be able to create a map of the table that your clients can choose and order them. It will be very easy for your clients to pick the best table they want.
The map created will be fully customizable and easy to create. Admin can create tables, includes labels, seats, and type. It is very easy to do with drag and drop.
You can add types of tables and seats and edit the name of them. You can also set the color and shape of the table and the seats. The price of the table and schedule can be easily set.
Conclusion
By using one or many of those restaurant plugins above, it will make easier to build your order system. You will save a lot of time and allow you to focus more on other things.
We do hope you find the list above useful to find the best plugin that suits your need and favor. Good luck!