Looking to held an event and looking for an RSVP WordPress plugin to help attendees to register and signup to your event?
There are many RSVP plugins for WordPress on the market, choosing one may be tricky for you. For this reason, we curate for you some best plugins available on the market. Read them carefully since you may find the plugin that fit your needs.
Event Tickets

Event Tickets are one of many good plugins for ticketing. This free add-on lets you create RSVPs and add tickets to events, pages, and posts in WordPress. Event Tickets is a standalone plugin that can be freely installed and used right away. However, you can always buy Event Tickets Plus if you want and require to.
The free version of Events Tickets is already providing essential functions such as RSVPs, Ticket sales, and email confirmations. The Plus version offers Premium support, eCommerce ready, Custom registration, Shared stock, QR code check-in, Android & iOS app, and advanced widgets. This Plus version is meant for huge events, so if you want to hold a huge event, go for it.
The event ticket is supported and integrated with PayPal which is one of the biggest payment services in the world. It means people can use credit cards too since Paypal can be connected with them directly. Since PayPal will handle the transactions, you can focus on event management.
This plugin will automatically send an email confirmation after attendees register or RSVP for an event. A confirmation email is sent if the attendee purchases a ticket. This plugin will also provide a ticket to scan at the door for admission.
Registrations for The Events Calendar

The Events Calendar plugin is another WordPress RSVP plugin. This plugin is trusted more than 9 thousand active sites, rated 5 stars on the market. You'll need to install The Events Calendar plugin in order to use this plugin.
This highly customizable and beautifully designed plugin is a free plugin that you can simply download and install it. The pro version with many more features and support is also available.

The free version is enough since it allows you to do basic tasks needed in handling registrations. With this plugin, you can begin collecting event registrations on your WordPress website.
Besides, it can also be used to do many things such as RSVP for meetings, Class registration, and simple class management. This plugin also allows sports club registration, venue booking Webinar sign-ups, and Private instructor booking.

The best features of Registrations for The Events Calendar plugin is customizable "Register" button. It will allow you to make your website faster and uncluttered since the registration form can be hidden until the user clicks the register button.
The forms created are AJAX forms submit, this can slightly reduce incomplete event registrations. Besides, an email confirmation also will be automatically sent to the attendee.
This confirmation email will be customizable. All the attendee data will be saved in a database table so it will be easier to manage, then you can export this data later. The attendee also can unregister themselves using a link sent in an email.
RSVP and Event Management Plugin

RSVP and Event Management Plugin is a light and simple plugin to handle event registrations. This plugin initially not created for the public but the features are awesome. Trusted by more than 4000 active sites, this plugin is worth to try the plugin.

RSVP and Event Management Plugin is a free plugin, but the pro version with premium support and more features is also available. This plugin provides many essential features in handling registrations. The free version, unfortunately, doesn't support AJAX forms submit but you can upgrade to the pro version to enable it.
This simply designed plugin is highly customizable. You can edit the form questions easily while adding a passcode or no passcode to the attendee. All the attendees list easily manage with this plugin since you can import or export the attendee data.
An automatic email confirmation will be sent to the attendees, letting them know if they have successfully registered for the event. This plugin is very best for private events such as a wedding, birthday party, church gathering, etc.
Events Made Easy

Events Made Easy is a full-featured event and membership management solution for WordPress. This plugin is free and ready to use. This simple but powerful RSVP plugin is trusted by more than 7 thousand active sites. The plugin is updated regularly and has a reliable plugin support.

Some main features support public, private, draft, and recurring events. The best features are PDF creations for membership, bookings, and people info. Tickets or membership can be automatically sent as PDF via email. These emails and PDFs are completely customizable.
Currently Events Made Easy supports payments via Paypal, FirstData, 2CheckOut, Mollie, Worldpay, Sagepay, Stripe, Braintree, Paymill, Instamojo. An email confirmation also automatically sent, it will also automatically send reminders for payments. You can also plan for mailings and newsletters.
As a WordPress RSVP plugin, Events Made Easy is one of the best. You can localize the language including German, Swedish, French, and Dutch. This plugin is compatible with (m)qtranslate(-xt), it allows you to use different language to different people.
Eventer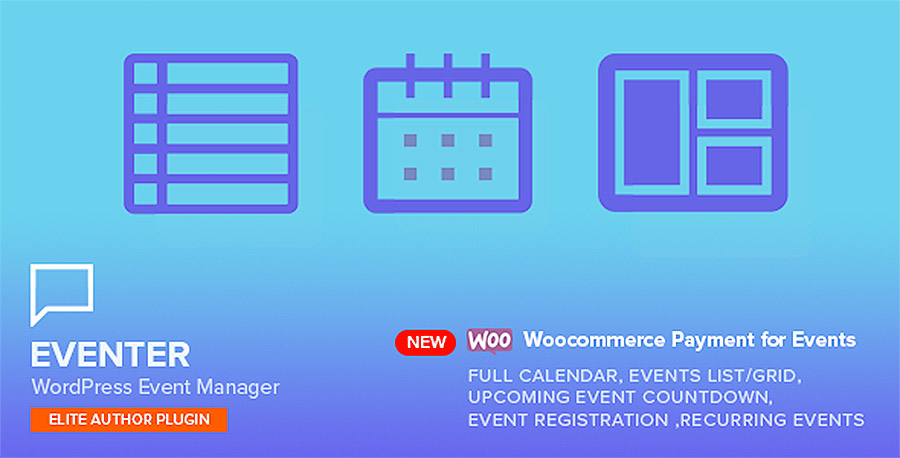 Eventer is a premium plugin with all essential and premium features of a WordPress RSVP plugin. Since this plugin is a commercial one, it offers much more complete support and features.
Eventer supports QR code, this plugin will automatically generate QR codes on the event tickets that can be scanned later. It will make the check-in process faster. The built-in ticket generator will allow you to customize the ticket design and layout.
All the attendee list can be managed easily by Eventer. You can export the event registration bookings to CSV files. If you created many events at once, there will be an event manager for every single event. The type of ticket for every event can be fully customized.
An automatic email confirmation is also supported by Eventer. Besides, the best Eventer feature is the drag and drop form builder. This form builder will allow you to create a form easily, with the style that you can customize to your liking.
RSVPMaker

RSVPMaker is a free and open-source plugin, there is no premium version available. This plugin is a WordPress RSVP plugin that can be used to schedule and track an event. It allows you to get any information you need, including the names of guests, their email, etc.
The RSVPMaker integration with PayPal and Stripe will allow you to collect money right away after the guests submit their information. This plugin is very light and simple. Made especially for a simple event such as webinars, conferences, classes, seminars, speaking events, parties, and weddings.
RSVPMaker plugin can be used to announce an event, adding options for email notifications and confirmations. These confirmation and notifications emails are fully customizable. RSVPMaker can be integrated with MailChimp, allow you to send newsletters to your subscribers.
It is easy to use RSVPMaker to create a page with a registration form and event. It only took about 1 minute to fill the details including how much is the event ticket price, the date, and where the event will be held.