Nowadays, a lot of things are done online, including finding a house to rent, finding the rating of a business, and many other activities. The widespread usage of the internet opens a huge door of possibility for enterprising users, for example, to make an easy to use directory website for local businesses to get them noticed by internet users, and so on.
Previously, the idea of creating a website would mean massive coding knowledge required and a lot of time spent to perfect your directory listing website. Enter WordPress and ListingHive, a lightweight theme for creating directory listing websites that are extensible and easy to use.
ListingHive is available free from the official WordPress theme repository – you can install it straight from your WordPress dashboard. At first glance, the theme looks just like any other responsive blog theme, which is good as you don't need to adjust for different screen resolutions and browsers. However, if you use ListingHive with another free HivePress plugin, the nature of the theme changed into one that's multipurpose and flexible for any directory type website.
Setting up the theme and plugin is easy, with intuitive options and menus. If you are experienced in WordPress, you will get your basic listing website up in less than one hour. For example, all listing options could be found in "Settings > Listing", and you can adjust the settings as needed. Of course, advanced users could tinker a lot with the theme and plugin, which we will be covering later in this article.
With the plugin set up, you can add attributes, which will be searchable by the users. You can also enable category or attribute view to make your site easier to use by visitors. Of course, if needed, logged in users can also add or edit listing entries. The beauty of the theme and plugin combination is that the pages are designed in such a way that most users would not notice if your website is powered by WordPress. User authentication could be handled via social media, which is included out of the box from the plugin.
If you want to monetize your listing website, the theme and plugin combination also works seamlessly with WooCommerce, a renowned WordPress e-commerce solution. You can allow users to pay in order to claim a business or highlight them in the search result page. Both of the scenarios are handled by HivePress' beautiful extensions, and you can use it for free.
Free Extensions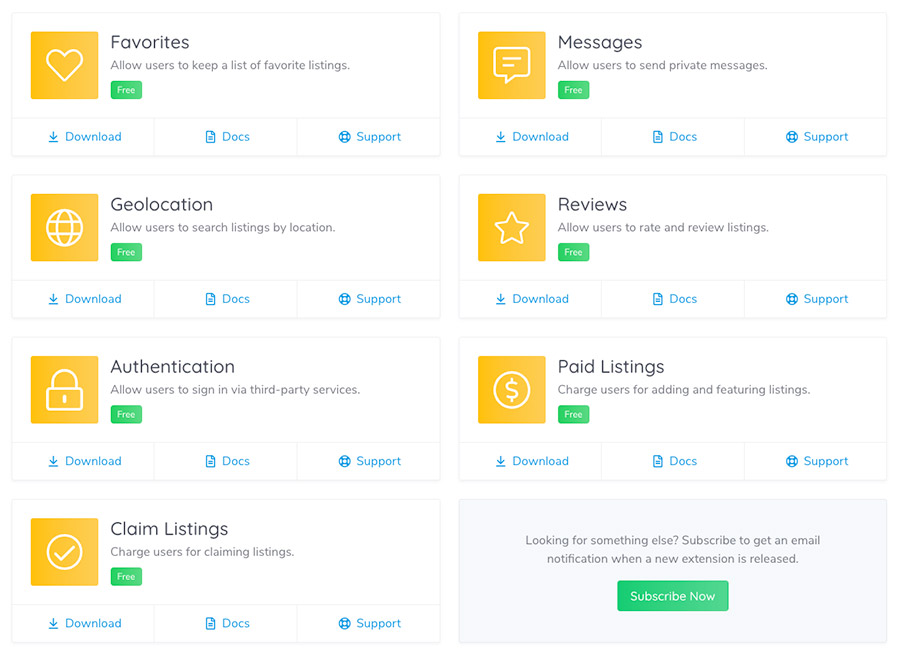 ListingHive and HivePress are also extensible. To start with, you can try all the 7 extensions that are available for free:
Authentication
For signing in with third party services (such as Facebook or Google).
Messages
Sending a message to reply to listings, Favorites to allow users to keep track of their favorite listing entry, Geolocation which allows users to find listings by location and display the map via Google Maps.
Reviews
Allows users to rate and review listings and sort listings by its rating, Claim Listing to allow business owners to "take over" the listing for a fee.
Paid Listing
Allows payment from users who want their business listed on your site. If you look at Hivepress' website, you can also find various other extensions that you can use for a small fee.
Customization
But what's good about the theme if it is not customizable? Fortunately, ListingHive plays nice with WordPress Customizer, which means that you can easily change various aspects of the theme, from the site logo and icon to colors and body fonts.
If you find that the customization options are not enough, you are free to craft your own CSS and use it with the theme. ListingHive has a very straightforward, BEM-compliant HTML and CSS files, so you can develop for it easily with just a basic knowledge of HTML and CSS.
Still not satisfied with how your site looks and feel? You can develop your site with some PHP knowledge as the theme offered powerful hooks API which allows you to change basically any aspect of your website. The documentation of ListingHive is also complete so that you can develop easily in no time.
There's also paid extensions available that
Support
The support for both the theme and plugin is also nice. You can find the GPL-licensed source code in their GitHub repository, which allows contributors to fix issues and maintain the freshness of the code. It also increased the security of the plugin, which will be needed as malicious users are on a rise currently.
The community and developer also support the theme, so that you won't be left in a lurch when facing any issues running your listing website. They aim to answer any support inquiries within 24 hours of it being posted, which is miles beyond other free themes and plugins.
Security
Speaking about security, the built-in security features of ListingHive and HivePress is abundant. As mentioned before, front-end pages are designed in such a way that makes the end user won't know that your website is running WordPress.
The HivePress plugin also allows moderation for deleting or editing malicious listings. ReCaptcha is used to prevent bots from inputting data to the website through any forms available. Inputs are also sanitized and outputs are escaped properly, further hardening the security of your listing website.
Compared to other business listing-related themes and plugins, such as Listing Pro and Wyzi, ListingHive has the best value simply because it is feature-rich and free, as in free beer, to use. The community is also strong and at this time of writing, the theme has been used by more than 1,000 sites, according to the official WordPress theme repository. So, it shouldn't be a stretch if we call ListingHive as one of the best listing themes for WordPress.
Final Words
We hope that our comprehensive review of this theme will convince you to start your own listing website confidently. If you feel stuck, remember that the WordPress community is big and you can get support easily through various channels, such as forums and wiki pages. Good luck with your endeavor!