When you search for information on the internet, you might be inclined to stop at the first page of the search result, and you are not alone. Most people tend to ignore the second page onwards, which highlights the tricky art of making your website appear on the first page. The art is widely known as "search engine optimization" or also known as SEO.
In a basic sense, search engine optimization is an art of optimizing your site to match the algorithm of search engines, which in turn will allow your site to rank higher in search results page. Several factors contribute to the search engine optimization, such as content relevance, page responsiveness, and more. While it takes years to master search engine optimization, doing basic SEO can be done in minutes if you know what you are doing.
If you use content management systems such as WordPress, your journey to search engine optimization is relatively easier than if you code your website from scratch. SEO friendly WordPress themes are a dime a dozen; however, every theme has its quirks and features that changing your theme after choosing one might be cumbersome. Thus, it is better for you if you decide on a theme at the start of your website to allow you to familiarize yourself with the theme's features.
When searching for best SEO WordPress themes, you will need to keep in mind that not every theme is free. While some great themes can be used without spending a dime, some themes require you to pay for certain features or straight up ask you to buy it. Fortunately, most paid themes have a demo that you can use to play around before committing to buy them. Checking the features before committing to use a theme will reduce the likelihood of you changing a theme after picking one.
In this article, we will review some of the best SEO WordPress themes to help you to decide on a theme. Our review will include the features in each theme, the best way to use said theme, and any cons that will hinder your experience of using it. Without further ado, let's start.
GeneratePress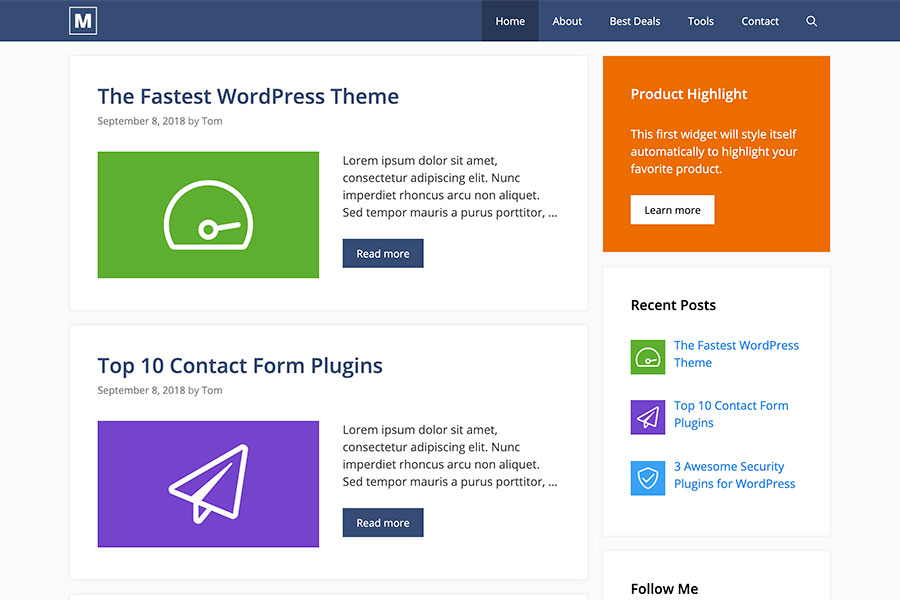 Any seasoned WordPress developer will probably know GeneratePress as one of the most SEO-friendly WordPress theme. According to WordPress' theme repository statistics, GeneratePress is installed on more than 100,000 WordPress websites. The base theme itself is free, and you can pay $49.95 to get GeneratePress Premium plugin.
The plugin, which works in tandem with GeneratePress, allows you to build pages easily using the predefined "modules". GeneratePress is also tailored for speed, with various techniques built in to lower the page load time.
However, the wealth of features built into GeneratePress might scare off new WordPress website admins or designer. Sure, you can import "Site Libraries" after buying the Premium plugin to make your site launch faster, there is no better way to tailor GeneratePress to your liking than delving deep into the theme's feature set, which will cost you a bit of time.
Out of the box, GeneratePress looks like a basic WordPress theme, but spend some time with them and you can build a completely customized site to your liking.
Astra
Just like GeneratePress, the core theme of Astra can be downloaded from the official WordPress theme repository, and is free to use. It is installed in more than 900,000 websites, and has thousands of 5-stars review.
Generally, Astra users like the theme's customizability and compatibility with various plugins, including the popular e-commerce plugin Woocommerce. Astra also works better out of the box compared to a lot of SEO-friendly WordPress themes.
To extend the features of Astra, you can shell out $41 for Astra Pro plugin, $169 for Astra Mini Agency plugin (which includes Ultimate Addons for Elementor or Beaver Builder), or $249 for Astra Agency Bundle (which includes plugins for Convert Pro, Schema Pro, and SkillJet).
The awesome thing about Astra's pricing is that the premium plugin can be used in unlimited amount of website, unlike most themes which require you to buy a license for its Pro plugins each time you use it in a new site.
Divi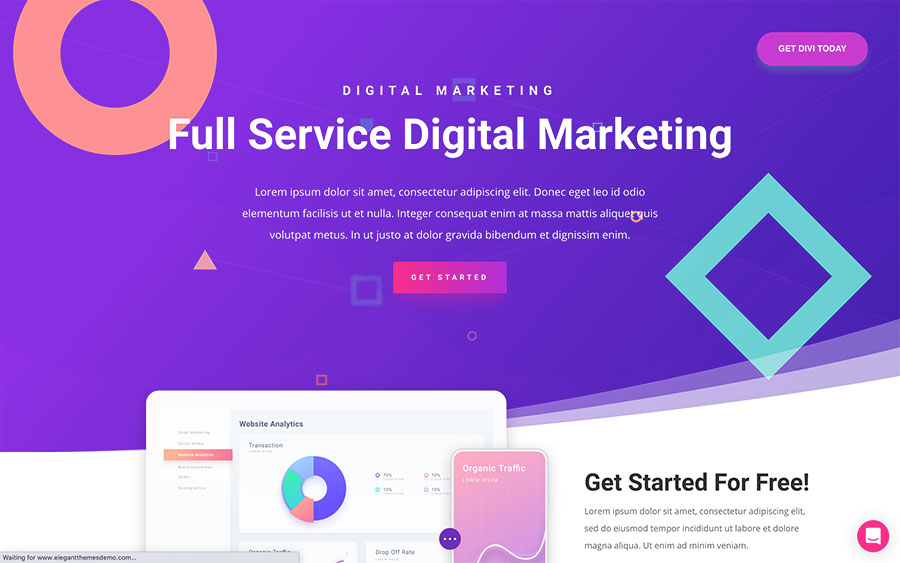 Divi is a paid SEO-friendly WordPress theme that have a good reputation for its versatility and ease of use. As part of Elegant Themes subscription, you need to shell out $89 a year for access to Divi and various other products, including Extra magazine theme, Divi builder plugin, and more.
Getting started with Divi is easy; you just need to get the installation ZIP file and upload it through your WordPress theme installation page. Updates to the Divi theme are free as long as you are subscribed to Elegant Themes.
As part of the theme, you can import various website packs that are available in Elegant Themes to kickstart your website building process. If desired, you can also start building your page from scratch. Divi offers various customization options that allows you to have endless possibilities on your website final result.
Soledad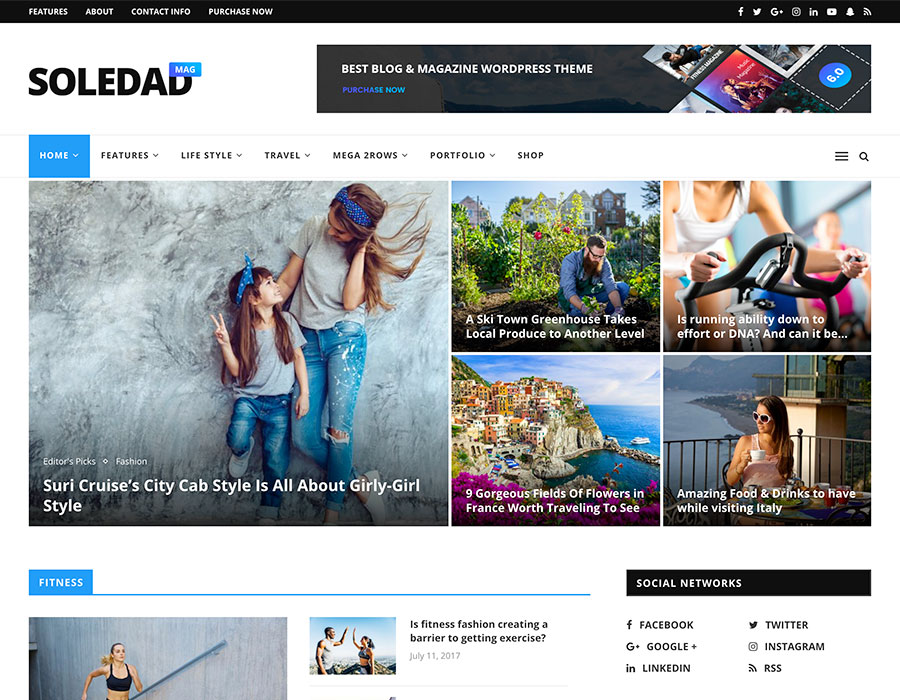 A theme geared for magazine or article-driven blogs; Soledad is a paid theme that you can buy through Envato market for $59, but often sold at a discount from as low as $39. The price includes theme updates, so you don't need to worry about breaking your theme if you update your WordPress core installation to a newer version.
Soledad allows you to make magazine-styled blogs, set featured posts, and customize almost every part of it. For blog site admins, Soledad might be the perfect choice.
Neve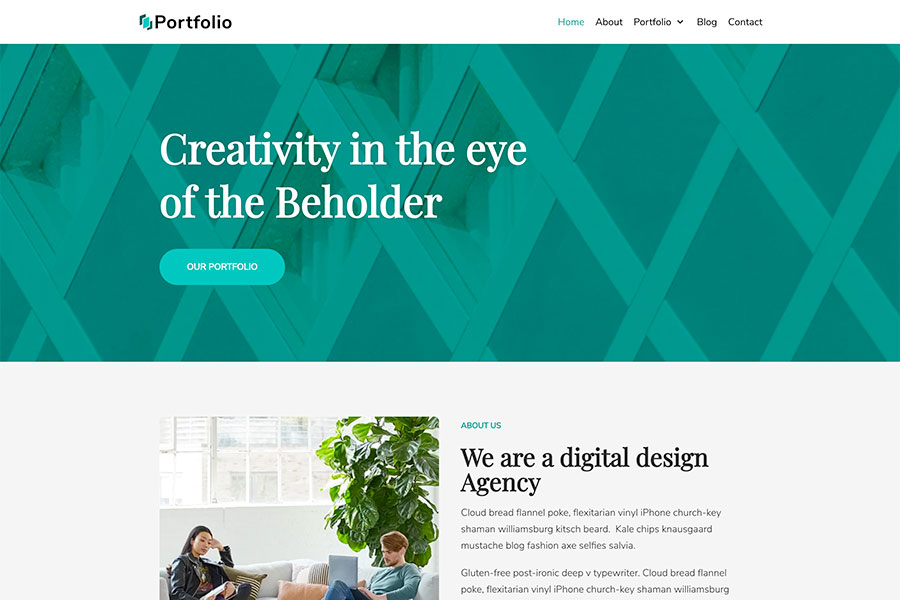 Neve's mobile-first approach is a fresh approach for a WordPress theme. Website visits from mobile devices have been increasing every year, so you might want to tap to the potential by using the most mobile-ready theme.
Neve can be downloaded for free, but if you want updates or enhanced features, you will need to splurge $49 up to $129, depending on the feature you want. For example, if you want to pair Neve with WooCommerce, you will need to buy the Agency plan for $129.
Suki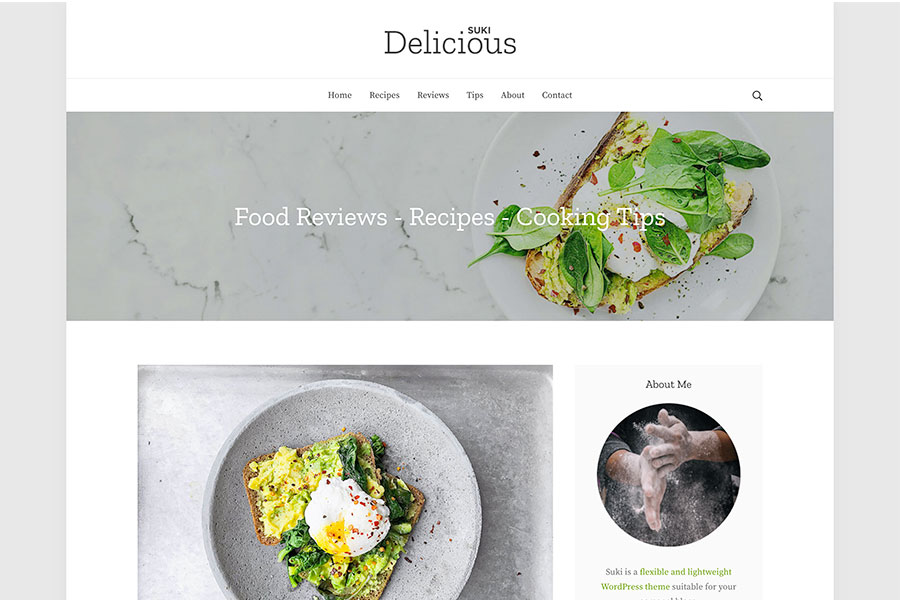 Suki's strength is its almost endless customization options, which can be enhanced more by buying the Suki Pro plugin for $59-249. The $59 option allows free updates for 1 year, while $249 nets you lifetime updates for unlimited number of sites.
The base theme, however, is free to use and can be easily customized to fit your website design needs. In the free version, you can customize the header, body, color, and more, and with Suki Pro, you can access various options including custom fonts, icons, and white labeling.
The free version of Suki is have much more customization options compared to other popular themes such as GeneratePress or Astra. Suki is also optimized for speed, it has a very good loading time when tested on popular tools such as Google PageSpeed Insight or GTMetrix.
Schema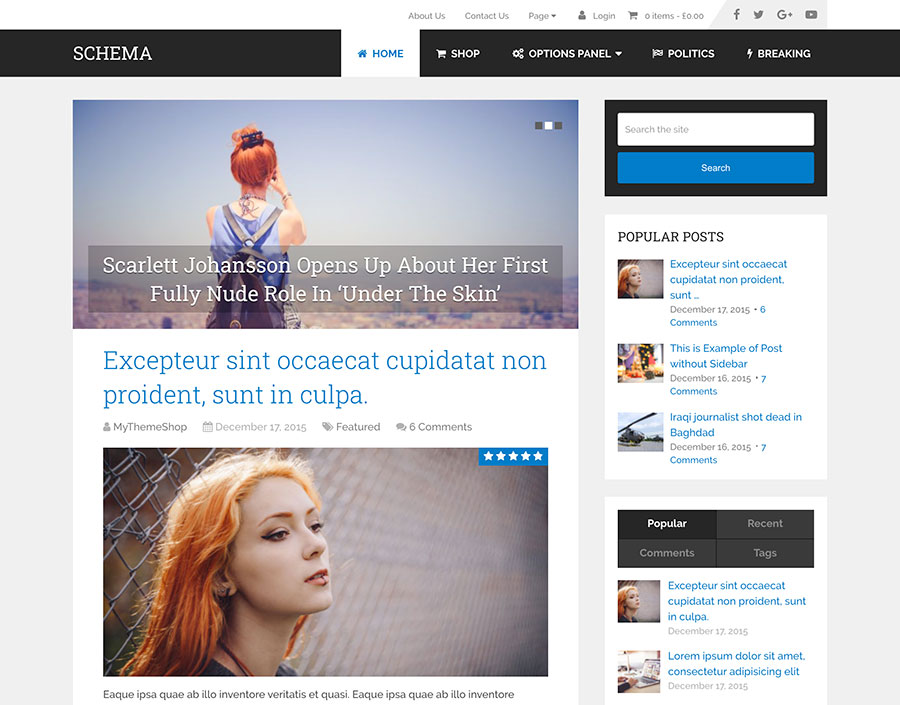 With the Schema theme, you can build a website with a review functionality. This feature stands out especially because Scheme also works with WordPress e-Commerce plugins, such as Woocommerce.
The review functionality will blend nicely with Woocommerce, allowing users to rate their favorite products. Schema is also SEO-friendly and light on server resource. The theme is free to download and use, but if you want automatic updates, you will need to pay $69 for 3 sites.
Genesis Framework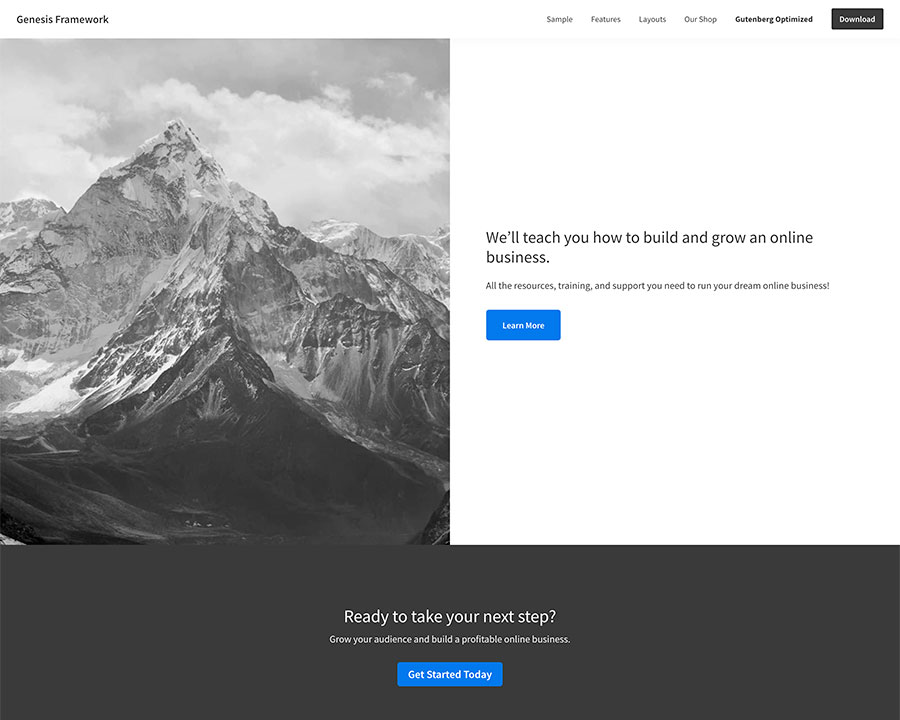 With the introduction of Gutenberg editor in WordPress 5, many themes are rendered unusable or broken. However, Genesis isn't one of those themes. Built with future compatibility in mind, Genesis is fully compatible with Gutenberg editor, allowing you to build and customize your WordPress 5.x website in no time.
At this time, Genesis framework is sold for $59.95, which is an immense value for future-proof SEO-friendly WordPress theme. Genesis is also one of the "senior" in the WordPress themes industry, their code quality is top notch.
SEOWP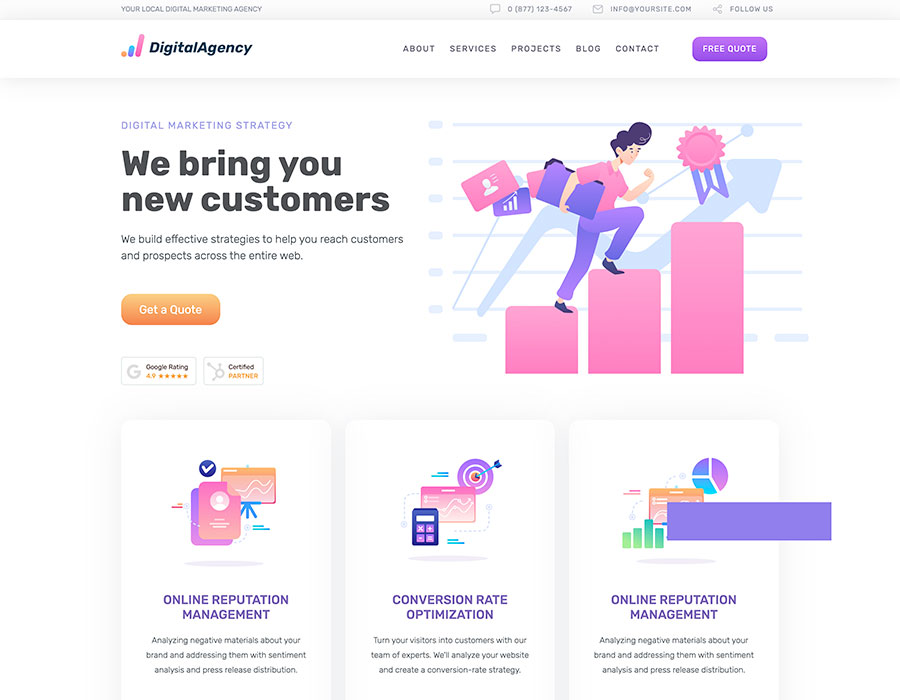 If you run a digital or SEO agency, you will like SEOWP. Although a bit pricey at $59, the theme works perfectly for a portfolio site. SEOWP even comes with drag-and-drop page builder, which will help you build your website easily.
With your purchase of SEOWP, you will also be able to access more than 10 premium plugins, including payment forms that support Stripe and PayPal. All in all, you will get your money's worth if you buy SEOWP.
X Theme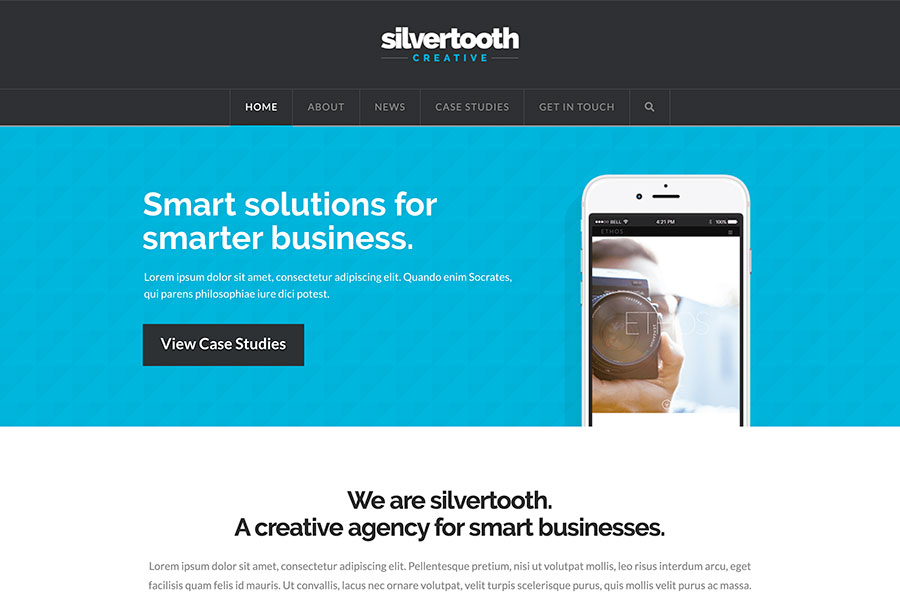 Don't let the short name fool you into thinking that the theme is inferior. X theme comes with drag-and-drop website builder tool that will allow you to build your website uniquely in a short time.
X theme is also widely used and you can find tutorials of the theme's feature in YouTube and various sites. Presently, X is sold for $29, which includes updates and 6 month of support.