Those who want to create online courses often opt for WordPress as the platform, but they'll need to do more than just typing something in.
It's where WordPress LMS plugins present the solution to creator makers to keep students coming and learning right from your very own page. Feel free to browse our selection below.
MasterStudy LMS

MasterStudy LMS indeed aims to make the visitors their masters of study with the app's full-packed features. Installing and using the plugin is hassle-free, yet it works magic for building, customising, and organising your online courses at WordPress.
Besides the fact that its essential elements help load page smoother and faster, MasterStudy LMS gives you an easy-to-use and beautiful UI where countdown, real-time questions, and quizzes are possible to input.
Sensei

Living up to its name as WordPress LMS plugin for online courses is Sensei, the extension for WooCommerce, made specifically to assist you in building courses and adding the contents.
With an attractive rate, your WordPress will put out the welcome mat for Sensei, especially considering that you won't need to have a WooCommerce theme first.
LearnDash

Widely used by universities and even Fortune 500 companies, LearnDash exists to give you similar quality for your independent online courses with its full suite: trigger-based actions, student's rewards, content buildings, and course marketing and sales.
One of these WordPress LMS plugins has vital features ranging from automated email notifications, student grade book, time setter for lesson learning, and multi-tier courses for levelled learning experiences.
Namaste! LMS

Namaste may not be yoga-related, but installing this plugin to support your online course business guarantees students' tranquil learning experience with its all-year premium support and numerous add-ons.
The simplicity and reasonable rates have won creators' heart, where some of its key features include niches-and-website integrations, badge award, course purchasing with the obtained points, file protection, and intuitive course suiting beginner level.
Lifter LMS

A full LMS bundle, another worth-considering WordPress LMS plugin, gifts you with an outstanding integration with AffiliateWP, MailChimp, and WooCommerce—making your courses highly accessible from anywhere.
The service provided includes a completely configured webpage, certificate, quizzes, as well as not-too-shabby graphics pack to create appealing course backgrounds—because, hey, learning should be fun, right?
Good LMS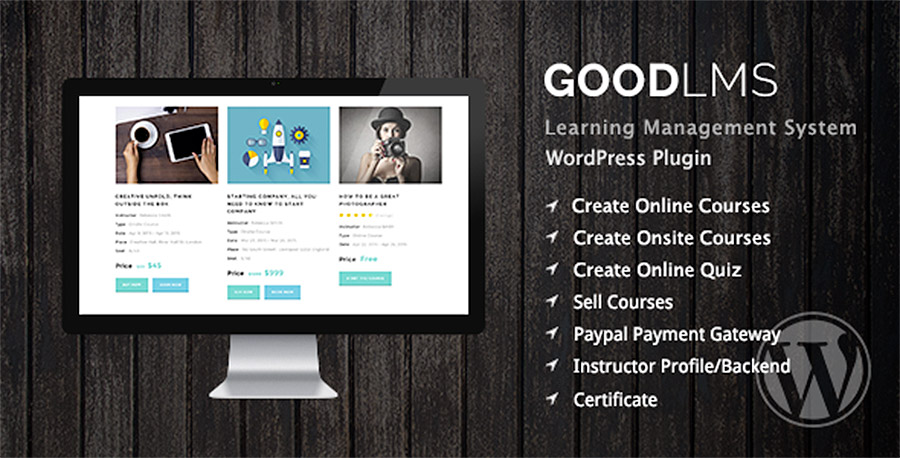 Good LMS comes with one-year updates and support, although the features will keep being maintained at that one-time payment. With a relatively cheap rate, you'll have a blast in making your fun online courses, as well as marketing and selling them.
if you're a practical person with no intention to create complicated online courses, Good LMS allows you to create an uncomplicated course marketplace, all set with the course ratings, quizzes' multiple attempts, and even coupon code column.
LearnPress

This one is free, but the purchased version won't disappoint you either: premium add-ons are available for elements ranging from WooCommerce support, co-instructor assistance, and certificates.
Give your learners the chance to advance during their courses with more add-on's activations, such as wishlists, course prerequisites, reviews, and BuddyPress. Beautiful page? Check, too.
WP Courseware

Another promising WordPress LMS plugin for online courses is WP Courseware, thanks to its uncomplicated pricing, on-site demo, and customers coming from top world universities and enterprise training sites.
The ground-breaking features set come with integrations to WooCommerce, Visual Composer, BuddyPress, and OptimizePress. Added to that is an active user portal, drag-and-drop elements to enhance the page visual, tools like email notifications and course protection, and grade books.
Choosing one of these WordPress LMS plugins can help you achieve the online courses you want, especially after you have learned each of the plugins further and what each can offer to accommodate your specific needs. Not only are they viable, but these plugins are also vastly used and won't come far from what you expect.