Thos beautiful and converting landing pages you see on the Internet may come from a powerful WordPress plugin called Elementor. This Elementor plugin gives the users a speedy chance to design and customize the workflow and visual look of a webpage.
If you wish to know more about this particular plugin, below is the comprehensive Elementor Pro review you can take for reference, so you can see it for yourself why buying it now is the soundest decision.
What Exactly Is Elementor Pro?
With only the word "Pro" behind it, you may question the nature behind Elementor and Elementor Pro for your website.
Elementor in WordPress plugins that enables you t o create beautiful landing pages in WordPress simply by using drag & drop method, no coding required.
The free version of Elementor plugin is available from the WordPress plugin repo and you can download it directly from your WordPress admin dashboard, simply go to Plugins > Add New then type in "Elementor" in the search box,
Meanwhile, Elementor Pro offers more than what is available in the free version. The Pro version includes more widgets that you can choose from when you're designing a landing page.
In total there are 50+ new widgets included in Elementor Pro, this includes widgets like Price Table, Login, Nav Menu, Countdown, Animated Headlines, WooCommerce widgets and many more.
Okay, here's to Know about Elementor
As has been mentioned previously, this WordPress page builder can assist you in producing elegant-looking websites in a matter of minutes. The strengths offered by Elementor lie in its functionality and flexibility to accommodate any creative minds, which can be regarded as a fresh start considering WordPress slow designing process in the past.
Launched in 2016, Elementor has now peaked at 2 million users globally, and the number is still growing. What makes these people shift to Elementor? What makes all that developers, businesses, startups, marketers, and content creators choose it?
Let's see all the detailed breakdown of Elementor and Elementor Pro.
Key Features of Elementor
Here are several key features worth noting including five most talked about:
No-Code, Flexible Theme Builder
Make the theme you imagine come alive with its super theme builder solution! While some parts can be untouchable and restricted to the website's content area in the past, the newest development addresses these issues to help users to be more dynamic and have the flexibility to plan each part of their website visually.
Feel free to work through the headers and footers, single posts, archives, and more features of your site, which you can try from Template Type, Dynamic data, and Conditions.
Besides that, you should know that Elementor works flexibly with any WordPress themes, where some major ones include Page Builder Framework Theme, Ocean WP, Generate Press, and Astra—some may come with or without fees.
Front-End Page Builder
A key to the intuitive and visually responsive site comes from a front-end page builder, which is quality promoted by Elementor. Compared to a back-end page builder, any changes made require a single saving process—every single time—that can be bothersome during a slow internet connection or if you wish for a more practical result.
With the real-time preview shown by Elementor, you can efficiently monitor every change, such as additions or dragged modules like spacers, buttons, videos, texts, pictures, and headings.
Helpful Templates and Blocks
Templates make things much more accessible, be it a website or any other form of information. The Folder icon at the bottom of your page can show you usable models and allow you to follow particular page styles suited to any business category.
All templates are professionally designed, and you can customize and edit it according to your preference, such as simple "Insert," switching to full-width or changing the section background.
On the other hand, Blocks exist as pre-set sections (feature list, FAQs, customer reviews, Contact Us, About Us, and others) that can be easily incorporated into the page just like templates. You can also find the dropped-down list of Blocks in the Folder icon.
Mobile-Friendly
With more and more people going mobile, Elementor seizes this chance to allow users always to be able to check their website's layout—does it already look good on the cell phone? How about a tablet?
The desktop icon beside the "Publish" button allows you to click on either "Tablet" or "Mobile" to help you with this. All modes won't affect each other even if you enhance them separately, so no need to worry!
In-Line Text Editing
No matter how fantastic your visual design on the website is, adding some texts to support its overall content is always highly suggested.
It's where the in-line text editing feature on Elementor itself can help users edit the texts on the preview area quickly and with no complications. The options provided include font types, sizes, drop caps, shadows, colors, and many more.
Elementor vs Elementor Pro: The Main Differences
As an add-on for the unpaid version of the Elementor plugin, technically, you'll get both benefits offered by Elementor and Elementor Pro plugin for your website. The Pro version, however, has five more distinguished features:
50+ New Widgets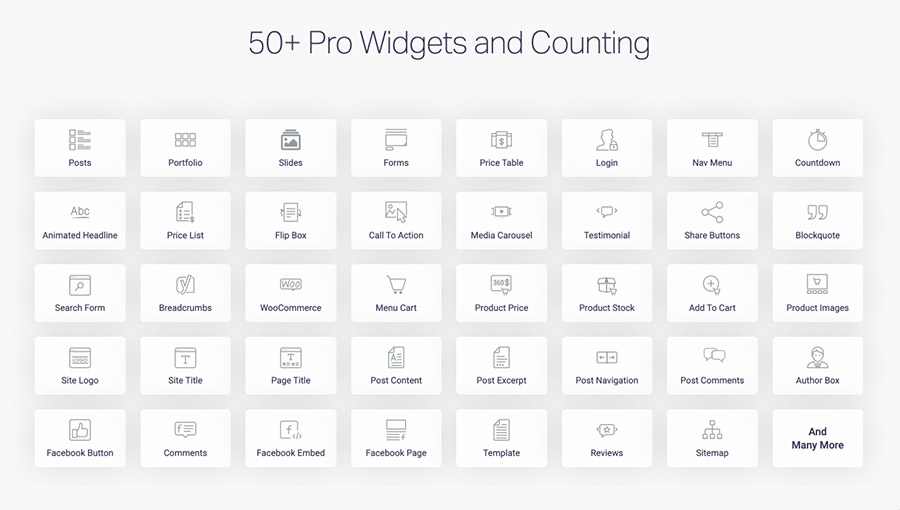 Elementor Pro adds 30 more widgets to help construct your attractive yet functional webpage designs. With this pack, it's guaranteed you won't even need to download more separate third-party plugins.
Widgets like Form, Slider, and Posts are pretty self-explanatory regarding their functions. The good news is, WooCommerce store owners will be attracted to this addition! We won't spoil much about it here, but feel free to contact their customer service or read customer reviews on this.
Full Template Library Unlock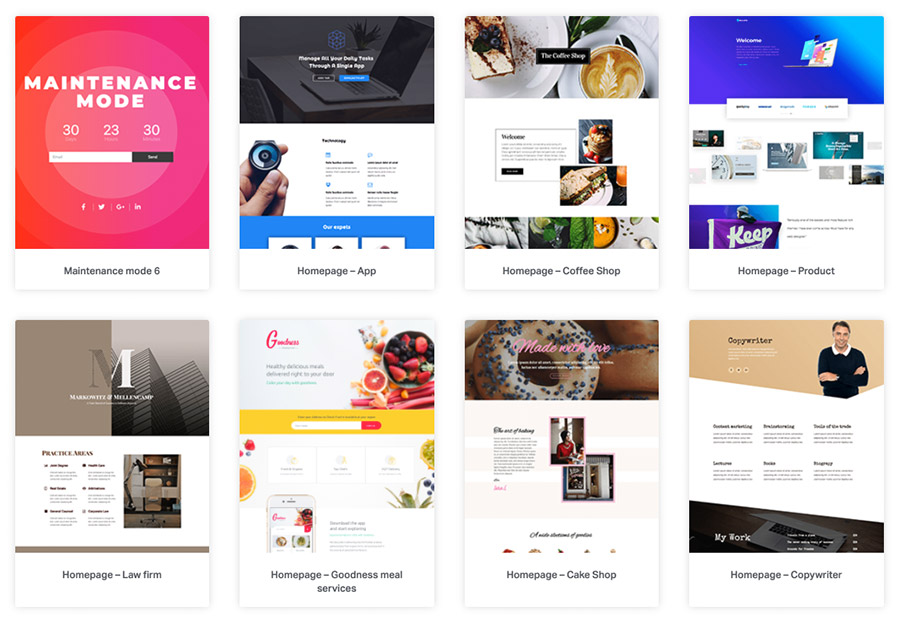 Yes, the free version of Elementor is already equipped with a massive database of template library, but, no, not all of them are open to access.
By purchasing or upgrading to Elementor Pro, it will unlock the rest to let you browse the entire library and use each page blocks and templates. Those locked ones are usually more sophisticatedly designed or premium quality, which can come as fresh air for your creative minds.
Live Custom CSS
If the free version of Elementor only allows users to incorporate custom CSS IDs and classes, then you can immediately place CSS styles to specific columns, sections, and widgets with the paid version of Elementor Pro—a huge productivity boost that shouldn't be missed out!
If you aren't familiar yet with CSS, the abbreviation comes from "Cascading Style Sheets," a description used to explain how HTML elements will be shown on people's computer screen, paper, or in any other media.
Add your custom CSS to elements now by right-clicking the element edit button to reveal the settings panel. Proceed to Advanced and then Custom CSS to type in the CSS code.
Global Widgets
You who keep using that same widget on several websites may need the power of Global Widgets, which isn't only efficient but also highly timesaving. Changes or updates on the Global Widget you have made will automatically be shown as a two-column widget list, which will come out with a prompt written: "This is a global widget and is now locked."
After the Testimonial widget on one page has been designed and customized, for instance, you won't need to repeat that creation since you can save it as a drag-and-drop Global Widget onto any other pages. Super easy and hassle-free, rightt
Should You Upgrade to PRO Version?
With all the collection of five best features and additions of Elementor Pro to further convince you with the reasons to buy it now, does that mean having the Elementor Pro is a must?
Going with the free version is anybody's freedom. Still, the PRO version packs considerable values of powerful features and tools to assist any users in transforming or enhancing their websites into a much more appealing and professional-looking look.
If you're still looking for a theme to use with Elementor Pro, you might find one on Theme Savana.
Hopefully, the Elementor Pro review above will help you decide whether going for the purchased version is what you need for your current web design project. Just to close this as food for your thought: Elementor Pro indeed comes with more advanced features to present its ability as an all-in-one solution.