Things always go wrong, occasionally. It works this way for everything in life including for websites. Some errors may happen, crashes, incompatible plugins, or your websites might be hacked. Any of this will cost you time, money, and reputation.
WordPress as one of the best CMS, fortunately, provided with many plugins that allow you to backup and restore your website files & database. So whenever bad things happen to your website, you don't have to build them again from zero.
Because of this reason we do recommend you install a backup plugin in your WordPress site. However, when you try to search "WordPress backup plugins " on Google, you will be surprised that with all the choices and options available. There are hundreds of backup plugins on the market. How to choose the best one?
Which Backup Plugin Do You Need?
To answer your confusion, we gladly curate some of the best plugins we recommend you to try for your websites. Read carefully, maybe one of them is the best for you and your website.
UpdraftPlus

As the most popular plugin among others, more than 2 million active installations, UpdraftPlus is included in our recommendations.
UpdraftPlus is a freemium plugin so it is free to use but you can always pay for the upgraded version. But don't worry, the free version is enough to fulfill our need for backup.
The most interesting feature of Updraftplus is that it allows you to directly backup your website files & database onto cloud services such as Dropbox, Google Drive, Amazon S3 (or compatible), UpdraftVault, Rackspace Cloud, FTP, DreamObjects, Openstack Swift, and email.
More options available for the paid version to backup to Microsoft OneDrive, Microsoft Azure, Google Cloud Storage, Backblaze B2, SFTP, SCP, and WebDAV.
Moreover, UpdraftPlus allows you to set up automatic schedules. It is very convenient so you don't have to worry about updating your backups. You can also set the backup to more than one cloud service for better security.
UpdraftPlus is also faster and using fewer resources. This plugin has been tested on more than 1 million sites across the globe.
BackWPup

BackWPup is a free plugin, but also it is available in Pro version. This plugin is very easy to use. You don't have to be confused with a lot of options. You just have to install it and set it up, and it is ready to go.
BackWPup allows you to save your website's backup in .zip, .tar and .gz. because of this, it is very easy to restore your backup. You can also always store backup to a directory, FTP server, Dropbox, S3 services, Microsoft Azure, RackSpaceCloud, or SugarSync. The Pro version also allows storing backup to Amazon Glacier and Google Drive.
The most interesting feature of BackWPup are database backup, WordPress XML export, optimize database, and check and repair database.
It also allows you to generate a file with the installed plugin.
Furthermore, with more than 600,000+ active users and 9 million downloads, BackWPup is supported by a huge community. A good amount of community always means better development and services.
VaultPress

Just as the name, VaultPress is made specifically for WordPress. It is one of the best WordPress backup plugins. Since it was rebranded to merge with Jetpack, it is also known as JetPack Backups.
VaultPress is a paid subscription service plugin which means it won't work until you buy the subscription. Fortunately, the pricing plans are quite cheap. Start from 39$ a year or 3,25$ a month. It is worth it because you can get a lot of good services.
VaultPress allows you to get automated daily backups with unlimited storage. So it is best for you with huge websites. There is also a 30-day backup archive.
The best feature of Vaultpress is the easy site-migration and 1-click restore. It allows you to migrate your websites easily. Another interesting feature is also available such as image CDN and lazy loading. You will be also supported by expert supports provided by email.
BackupBuddy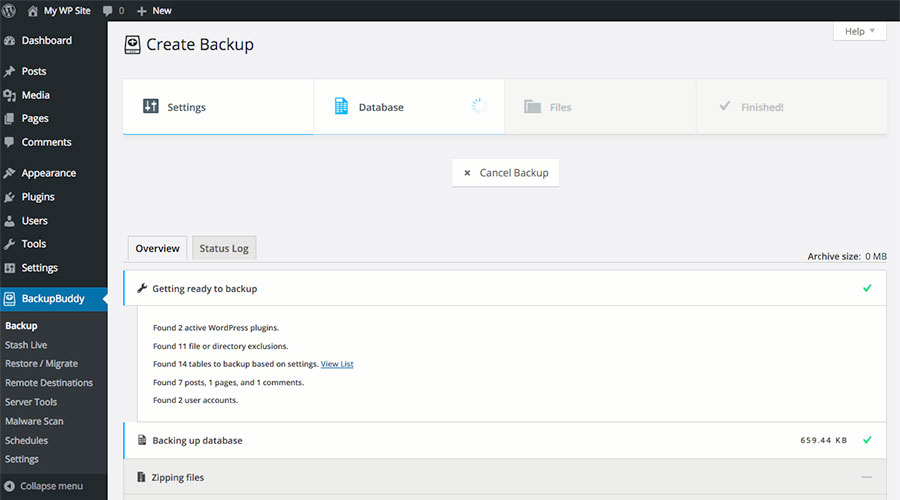 BackupBuddy is another paid plugin you need to buy before installation. This plugin will allow you to backup your entire WordPress, not only WordPress database.
BackupBuddy will backup all WordPress files, media libraries, themes, plugins, and even comments and posts. This is also optional, so you can choose what things you want to backup. By using BackpBuddy, you can migrate your entire sites to new hosts or servers.
Another good feature is that BackupBuddy will allow you to do a scheduled backup. You can save the backup offline in .zip and restore them easily. You can also save the file to BackupBuddy Stash, Amazon S3, Google Drive, Dropbox & more. This can be done automatically.
However, you need to pay from 64$ to 160$ to get the service. It depends on your needs, if you run a huge website that needs auto-backup and good protection, you can give it a go.
Duplicator

Duplicator is one of the most reliable migrator plugins available on the market. This plugin has been downloaded more than 15 millions download, with 1 million currently active downloads. Duplicator is available for free but you can also buy the Pro version.
Duplicator, just like the name, mainly used for website migration. The free version doesn't support automatic backup so you need to initiate it manually.
You can move, migrate, or clone a WordPress site between domains or hosts with zero downtime. You can also pull down a live site to localhost for development and transfer a WordPress site from one host to another.
Besides, The Duplicator Pro allows you to get access to save your backup to Amazon S3 Storage, DropboxDropbox Storage, Google DriveGoogle Drive Storage, TPFTP/SFTP Storage, and Microsoft OneDrive.
The Duplicator Pro version seems much more powerful but the free version itself is powerful enough to use as a migration tool.
WP Time Capsule

WP Time Capsule is another plugin with paid service. It means that you can install the plugin, but to make it works, you need to pay for the service first.
Before using this plugin, you need to sign up yourself to their website. Fortunately, you will get 30 days full-featured trial after sign up. This step is mandatory since you will have to log in using your account created there.
Like another paid plugin, WP Time Capsule also very reliable in handling backup with rich features. Some of the best features including real-time backup which allows you to revert your site to how it was just an hour ago. There is an option to change the backup interval to every 6 hours or 12 hours or daily.
Another features worth mentioning is staging and automatic backup & update. Staging will allow you to test your new sites on stage, like a sandbox. Automatic backup & update means WP time capsule will automatically backup your sites before each update.
WP Time Capsule also supports migration and clone. It also supports backup up to cloud services such as Amazon S3, Wasabi, Dropbox, or Google Drive.
Backup and staging – BlockVault Backups

BlockVault Backups is one of the best backups available on the market. It is the first plugin that supports multi-site backup and trusted by more than 450,000 websites across the globe. It is not free, but if offer you with 7 days trial with full feature.
BlockVault provides a better experience of up to 70% faster website recovery. There are more than a million website restores with a 100% success rate. Differential Restore for lightning-fast recovery. This plugin will perform full Restore even if your website is offline.
The most important feature of BlockVault Backups is integrated free staging. This feature allows you to test your site with changes with no risk since the staging site runs on our cloud servers. You also can use a one-click merge to push changes to live sites. The staging service is completely free.
BlockVault Backups supports site migration that compatible & approved with 5,000+ web hosts. It is one-click & automatic. It will also automatically rewrite all website URLs. You can migrate to a new domain, host, DNS, or server.