To help organize your blog post content and providing something better for your WordPress sitee visitors and also for better on-page SEO optimization., installing a table of contents plugin (TOC) will never go wrong for you.
Better users experience is one of the benefit that you'll have when you install a table of contents plugin. Every article readers on your website would like to find something extraordinary in your writing, that can direct them into the essential parts.
Finding the best and suitable a table of contents plugin is not that hard, with a lot of easy to use plugins to install and available for free from WordPress.org repo.
You can choose which plugin is better to suit your need based on the features and how easy to customize the display.
Best WordPress Table of Content Plugins
Here are several table of content WordPress plugins that we think are the best around so far.
LuckyWP Table of Contents
This table of content plugin is our personal favourite, we've been using it in most of our sites that are displaying table of content in the articles.
Like any other table of content plugins, once you install and configure the plugin, it can automatically insert a table of contents into several configurations, types, position, and many other options based on your choice.
LuckyWP Table fo Contents also come with rich snippet support so it will display nicely in Google search result page (SERP).
You can display the table of content automatically in every post or insert it manually via WordPress shortcode, Gutenberg, block, or using a widget. Pretty cool, huh?
It also provides you with the options to set up minimum number of heading, and the depth of heading for the table of content. It also comes with a toggle feature that enables visitors to show or hide the table of content.
Fixed TOC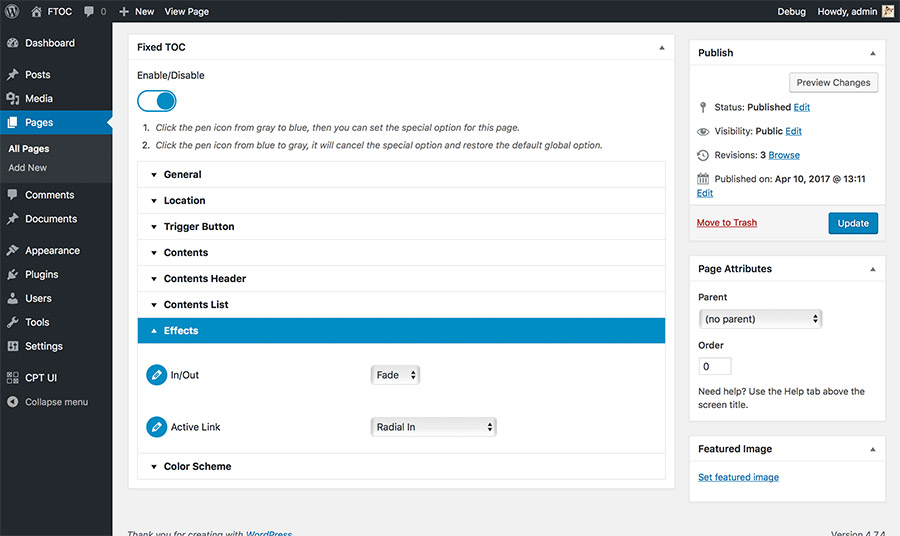 Fixed TOC plugins are one of the incredible solutions if you want to create a super helpful and unique table of content. This plugin can give you a helps to scan directly towards your post, and they will create a list for your table of content automatically. 
The plugin is quite friendly to adapt to any devices, including your phone. One of the valuable parts is that you can place the table of contents anywhere.
It is quite easy to scroll on your post to help you while you need to create a lot of table of contents. Collapsing of expanding the table of contents into several lists is not a big problem again.
You can customize anything based on your needs size, font, color, and many other features. You can also add a shortcode on your table of content, or creating a tag for the next page section that you can try on the customizer live preview.
Easy Table of Contents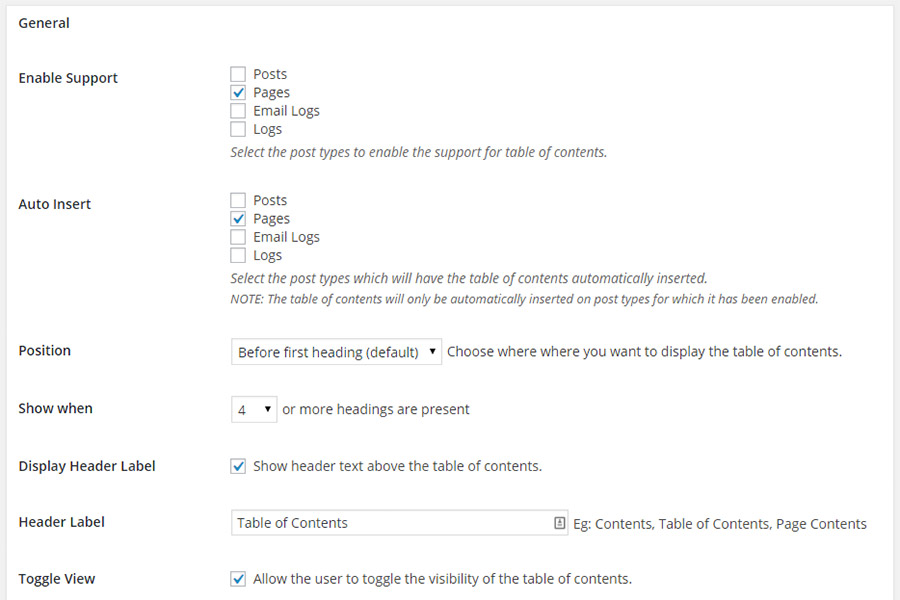 The plugin comes with tons of options to help you configure how the plugin behave and how the table of content would display on the frontend, it comes with several styles to choose from.
You can enable of disable table of content on per post or page basis, because not every post or page would need to have table of content in it. In case you're wondering, the plugin also support custom post type as long as the content are displayed using the_content().
It comes with lots of WordPress hooks, so it will be a developer-friendly plugin if you want to customize or extend the functionality of the plugin.
CM Table of Contents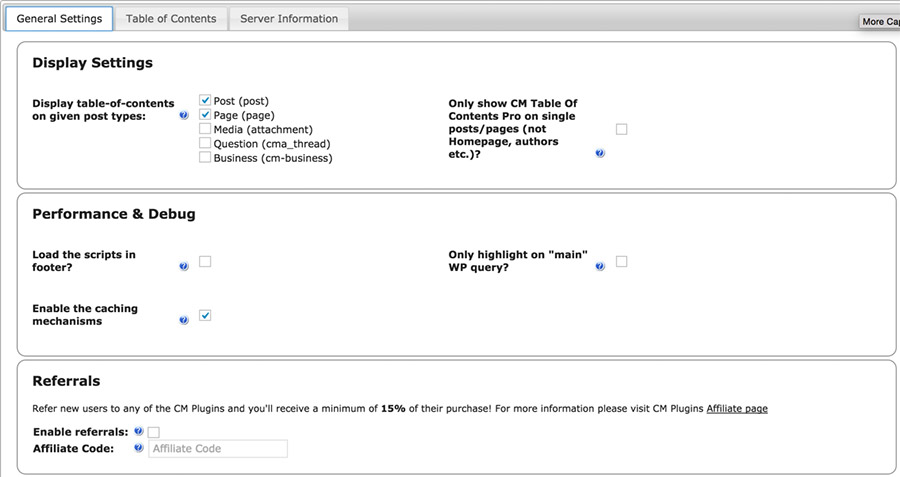 CM Table of Contents plugin enables you to automatically create the table of contents defined by a HTML tag, CSS class, and a HTML element ID.
You can also change the table of content label and it enables you to create a content-specific index with a shortcode. You can easily collapse or expand your TOC, and navigate a font size based on your need. 
If you have multiple pages on your posts, you can direct your users into several pages based on your TOC.
Ultimate Blocks – Gutenberg Blocks Plugin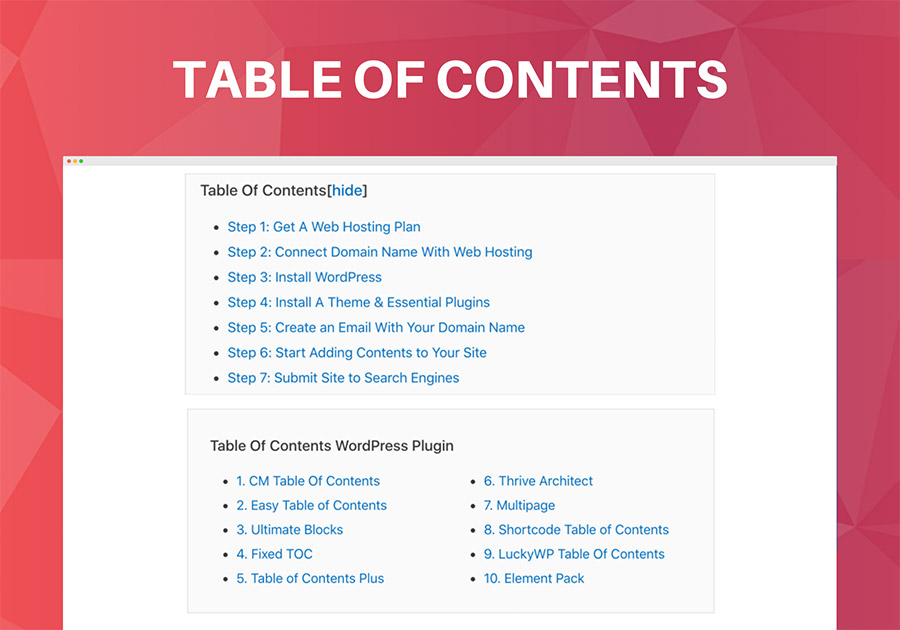 Ultimate Blocks is a plugin that add extra Gutenberge blocks to your WordPress editing screen.
Extract blocks that you'll get with this plugin:
Content Filter block
Review block
Table of Contents block
Content Toggle block
Testimonial block
Social Share block
Star Rating block
Image Slider block and many more blocks
When you add the Table of Contents block to the WordPress editor, the plugin will generate table of contents from your article headings.
Within the block, there's an option to exclude headings from the table of contents if you don't need it. There's also a toggle to show or hide the table of content from the article.
Aside from the features above, there's also an option to choose list style for the table of contents. Three are styles available to choose from, they are: Bulleted, Numbered and Plain style.
Conclusion
For better SEO friendly content, it would be much better if you can organize your content in a nicely manner.
With the use of WordPress table of contents plugin, everything is more orginazed and easy to navigate for your site visitors when reading your articles.