We've been planning to create a mascot for ThemeWarrior since several months ago, we want this mascot able to represent us in the best way possible. So, two weeks ago I contacted a friend of mine -Kuswanto- from Petshopbox to help us create our mascot. I've known Kuswanto since two years ago and he's known for his awesome characters and icon designs.
I told Petshopbox that I want our mascot to have some Indonesian-style. My mind directly pointed me to Gatot Kaca, a famous character in Pewayangan (a story telling cultures from Java)
In Indonesia Gatot Kaca is a famous character of Pewayangan (a story telling cultures from java), he has some of most superhero ability, flying but he can flying without wings (wow).
he was famous with nickname "otot kawat tulang besi" or "Wire Muscle Iron Bone".

From: Hero need a holiday
As I said earlier in the post, we want our mascot to represent us in the best way possible. We are dedicated to our work and will always help our customers as quickly as possible and response to every questions they might have in a friendly manner and we want our mascot to have the same spirit that we have!
Few days later, Petshopbox come up with their first sketches. They sent me 4 sketches each with different pose.
I must say, Petshopbox did a great job with the sketches and we like the second sketch from the left! After some minor tweaks and finish coloring the sketch we finally have our official mascot.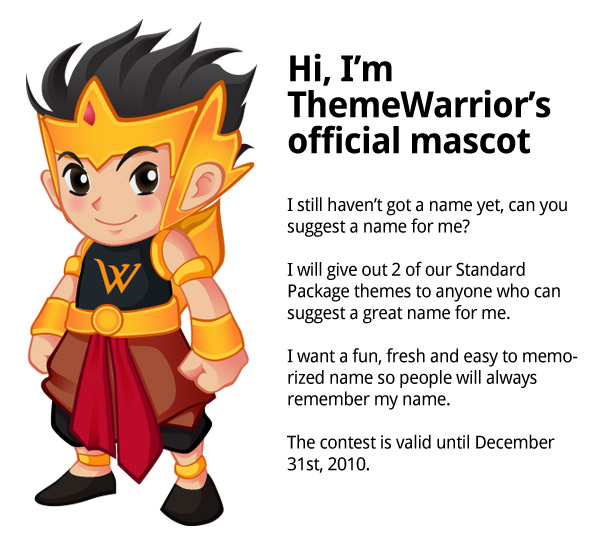 Naming Contest
Our mascot still doesn't have a name yet, can you help us suggest a name? If we feel that the name is suited, we will pick 1 name for our mascot from your suggestion and the person who suggested the name can pick 2 standard package themes from our themes collection and we will send the download link to your email, so please make sure your enter a valid email address!
Please write the suggested name in the comment form. We will use the winning name as our mascot's name and we can use the name in any occasion. The contest is valid until December 31st, 2010.
Thank you so much for Petshopbox for helping us out, they sure knows how to create great character design!
Update
We decided to use the name "W" for our mascot, it's simple and quite easy to remember and best of all you can see the name in our mascot! So, congrats to Rino for suggesting the name. We will contact the winner soon.