Are you dying to start your own blog site without any constraint? Even though you don't speak the programming language, building a customizeable a WordPress page is now achievable thanks to the page builder plugins available in the market.
Building and customizing a WordPress site is yesterday's fencepost problem since editing the layout and making a visually pleasing site can be done in a blink of an eye using the WordPress page builder plugin.
You may simply drag and drop to build the page using the chosen plugin without having to write any line of code. Most are offered handy without any charge, and some other come with a specific amount of cost but with the better features.
4 Advantages of Using a Page Builder Plugin for WordPress
When you start thinking of making a website, be it for a business purpose or a personal virtual room of expression, you can't help but think of customizing the pages as well. How do you want the layout to look like? What contents should be displayed on the page? Or, what other components needed to make the blog more useful?
I think every one of us agrees that a WordPress page builder plugin is designed to make our lives easier. The plugin's features allow you to access four prominent benefits of making a highly aesthetic and functional WordPress page in no time, as well as answering the questions anyone could've asked above.
1. Time Benefit
Sometimes, it's easy to come up with various concepts but difficult to make the plan happens. With a page builder plugin, you don't have to waste time designing and making a concept. They come with many interesting editor site concepts; thus, all you need to do is pick an exciting one, drag, and drop it to the page; you can be up and running the website in no time.
2. Make a Quick Work of Upgrading
When you have your page for a certain time, it may occur to your mind that the display is getting tedium. Modifying and a little customization may spare your audience of having the same feeling. The page builder plugin is equipped with a full ability for easy upgrade, changing the layout or adding elements; simply using the editor tool available.
3. Code-less Barrier
For non-developers majors, building a website without knowing a single line of code is a one-banana problem. In most cases, premium WordPress themes are accessible to be laid down using complicated HTML/CSS, and you can't do it without the code.
With a page builder, you don't have to go through such effort to make an effortlessly slay-looking site, super easy to add modules, even front-end editor to customize the layout.
4. Endless Custom Layout
Without coding knowledge, there's not much to be done in building a visually attractive website. Thankfully, the plugin WordPress plugins come with endless customizable layout and designs.
The choice is never a button-down now since you can add an extra header to the homepage or edit the content. Many WordPress page builders have pre-built templates, allowing you to flex extra creative pov to really wow the viewers.
Choosing the best WordPress page builder plugin is never easy. But, you can narrow down the option by judging its performance, flexibility, and the end result.
Speaking of which, here are the top 10 WordPress page builder you should use in 2018.
WPBakery Page Builder (previously Visual Composer)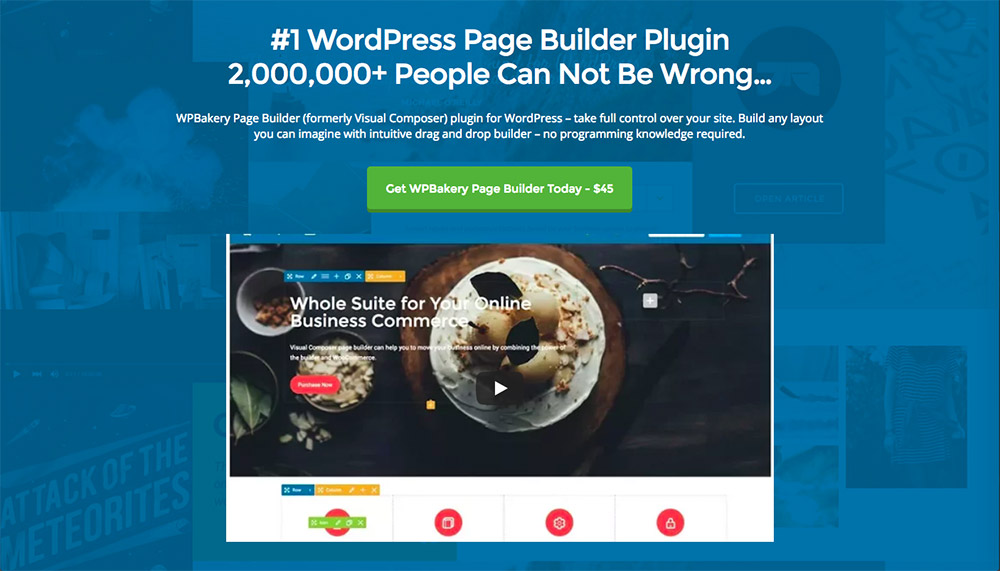 WPBakery Page Builder is, by far, our most beloved page builder plugin, not to mention it is an award-winning page editor. Developer by WPBakery, the plugin is equipped with more than 40 useful features and rich layouts that are visually arranged in systematic mode.
Downloading and installing the WPBakery Page Builder requires WP platform backing to access the content of its management system. Simply click the "install" button, and the setup will be automatically integrated into your site's theme.
Creating a new page is also free and easy with the "New Page" menu that gives you access to the admin panel dashboard. If you find the default layout visual is boring, simply access the "Classic Editor," and it will carry you to the backend and frontend editor, planning a striking visual attraction for the end result.
This previously known as Visual Composer plugin also comes with premium templates and extensions and add-ons and other elements that can be easily selected with a single click.
WPBakery Page Builder comes in two versions, the free one and the premiums. The Regular License cost about $45.00 and the Extended License cost $245.00.
Divi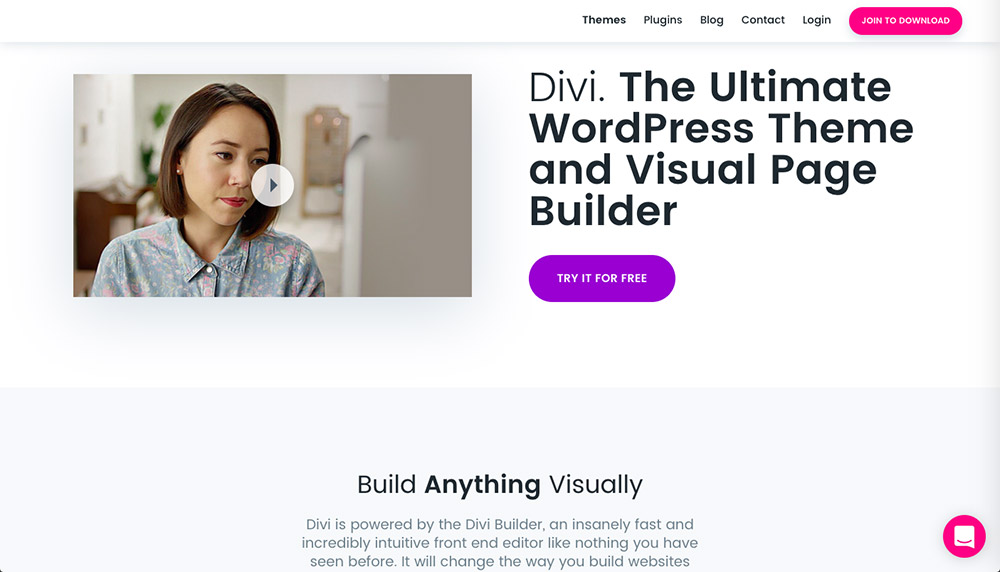 With a user-friendly interface, Divi plugin from Elegant Themes is practically easy to operate and is compatible with your WordPress theme. Its unlimited layout designs are equipped with 46 content module, including the email option, price tag, filterable portfolio, gallery, and many more.
Among Divi's best feature is the Divi Library, providing you with a control to change the conventional of web-designing using its custom builder and pre-built layout with a single drag and drop. When you don't have the mood to continue working on the web, its saved customization is accessible throughout the day.
Other useful features you'll find on Divi is the margin control, CSS manager, the developer platform, and responsive editing to match with its customizable UI.
Elementor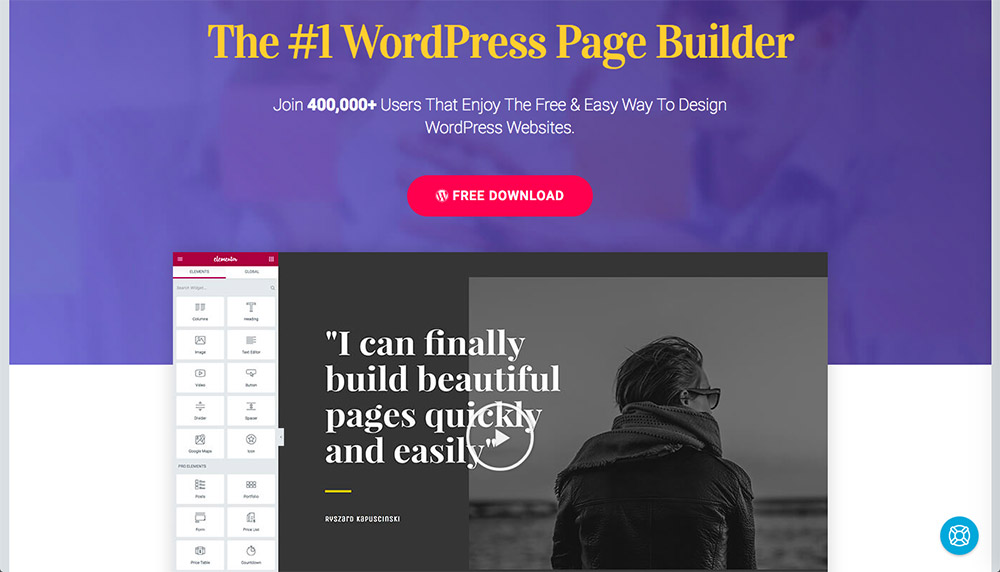 Our third pick would be Elementor, a valuable WordPress page builder plugin – among the fastest ones and incredibly easy to use. The responsive design and customizable layouts are adjusted to the SEO-friendly coding, and compatible with various themes of the plugin using a single click for the drag and drop ability.
Building a WordPress page for a personal blog or commercial purpose is never this easy. Instead of coming up with an intriguing brand new design concept, you can just access its pre-built template and customize it adjusted for any purpose.
What's better about this plugin is its user-friendly interface. Elementor is also accessible in mobile devices, allowing you to have responsive design over the visibility control. A set of special luxurious WordPress widgets often utilized to add social icons and others from the live editor.
Beaver Builder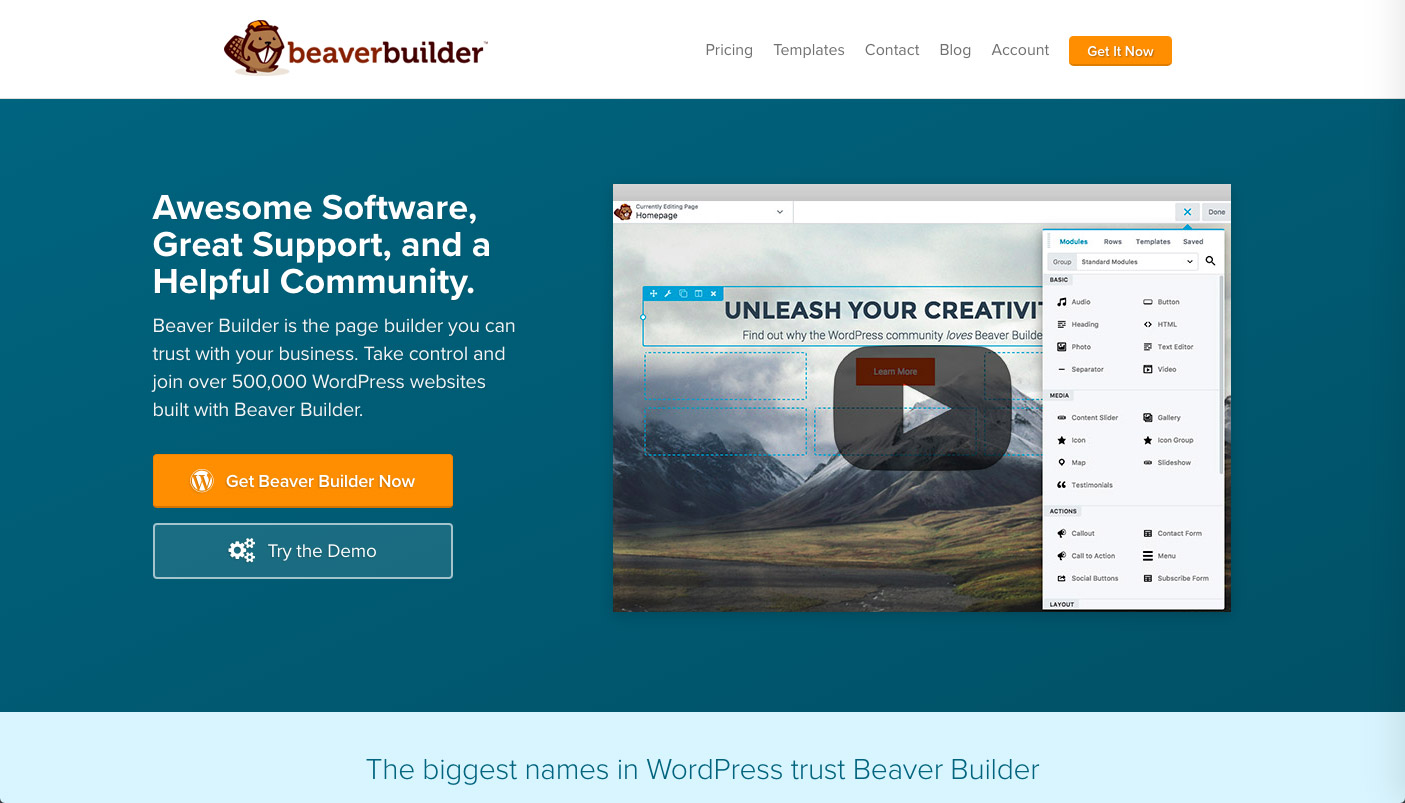 For those who wish to do some wonders and have a quickly-setup WordPress page, I suggest to include Beaver Builder in the plan. The plugin will take you to an onboarding tour – pre-built one – and lets you become familiar with its friendly interface quickly. All of its drag and drop features are offered in live mode, so users will be able to see any changes made quickly and using its elements to edit the properties.
Beaver Builder comes in two versions, the basic one and the advanced module which include premium features. Among other WordPress page builder, Beaver Builder is most suitable for beginners with modules to meet almost anything you want for a highly functional site, including the carousel, content blocks, and backgrounds.
I'm not trying to exaggerate anything, but this particular page builder plugin is super easy to learn and use, even installing the system doesn't require anything complicated. It works just like the usual WP customizer except for better front-end editor and more rewarding development features with zero bloats.
To add the awesomeness, Beaver Builder is SEO-friendly with some of the best SEO standards, including the code compression and schema.org that will rank your page closer to the top. And if that's not enough, it also features multisite ability and supports WooCommerce for a responsive online store.
Thrive Architect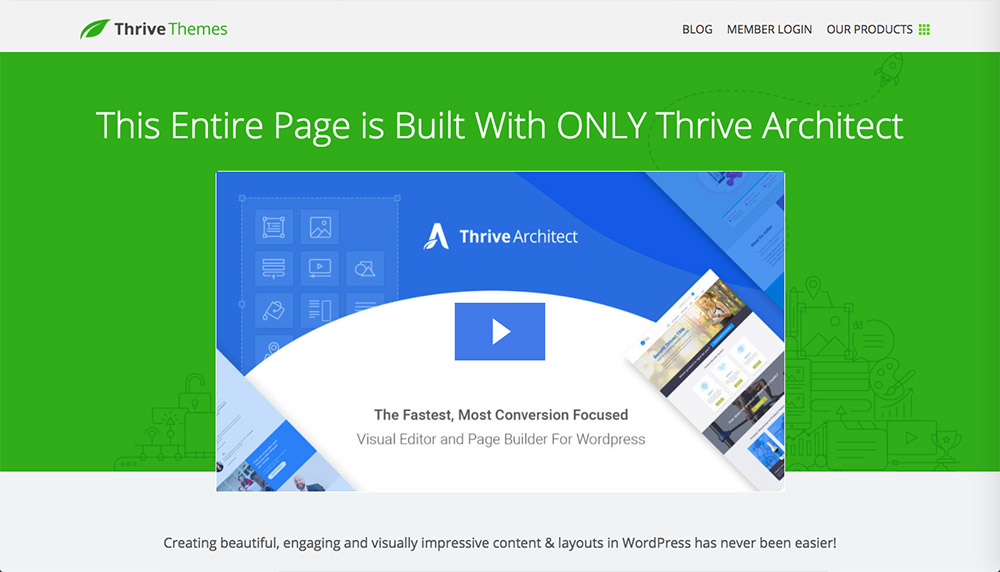 I understand that building an e-commerce site is more complicated than a regular online page; it usually includes checkout page, payment confirmation, and many more. In this sense, Thrive Architect is specially designed to support business and conversion sites with incredible focus to improve the performance of your business in a simple yet elegant manner.
The main purpose of Thrive Architect is to build a professional-looking website in a matter of minutes. Instant drag and drop allow you to create, edit, and finish content with features of landing page templates and pre-built conversion elements including the testimonials, integrated email marketing tools, dozens of a landing page and more.
Thrive Architect aims for the targeted business web page and DIY entrepreneurs without a ditch. This particular plugin also offers sales page templates with easy copywriting "fill-in-the-blank" type of feature for a beautiful-looking, responsive, and selling page. Instant preview, visibility, and tweak editing can be done via mobile device as well.
Themify Builder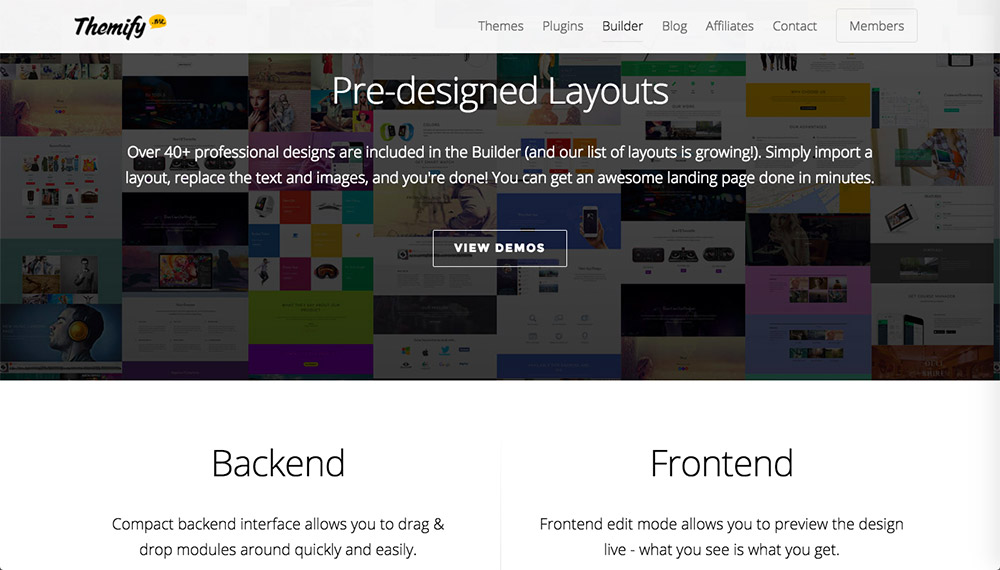 Themify Builder is powerful and easy to use page builder with its drag and drop interface. Its live preview allows any users to quickly adjust the theme with various useful widgets without any coding required.
Unlike most simple modular plugins, Themify Builder is optimized with powerful features including SEO-friendly, multi-site network support, HTML input, translatable, and work amazingly well with other plugins such as Disqus, Yoast SEO, WooCommerce, Jetpack, Contact Form 7, and the list goes on.
Despite its simple operation, I must say that Themify Builder makes an incredible fronted and backend web editor and available throughout all screen resolutions. On its premium features, more than 60 predesigned layouts are available, along with more than 60 animation effects, background editor, visibility control, and custom CSS. Unfortunately, Builder requires separate WordPress plugins to work with.
Page Builder by Site Origin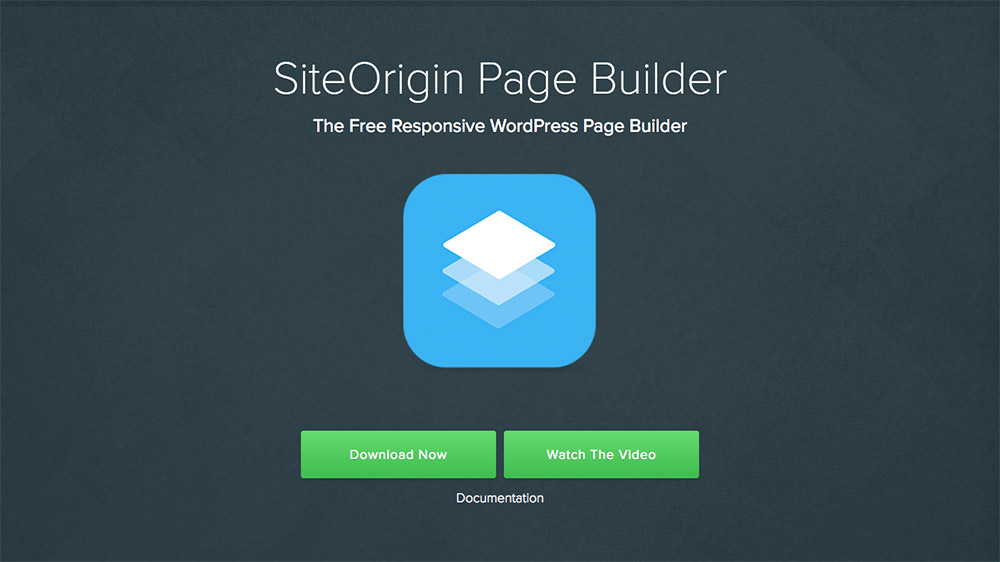 Designed with a grid-based concept, Page Builder by Site Origin makes an excellent computer and mobile-based page builder plugin with high pixel accuracy possible. Creating a new website is another different level especially with code-less support to highlight its simplicity, easiness, and familiarity.
You can rely on its drag and drop feature without a single line of code that works well with any theme and widgets you love. Reorder, resize, move or creating new rows is simple and the content will load quickly. What's the good thing? This page builder plugin can load 100 times lighter than other grid system editor, depending on the layout you're using.
The first thing to do once the plugin interface has been installed is adding a prebuilt layout to the page, followed by widgets, columns, and rows. Site Origin also incorporates the "Row Styles" panel to edit background display, switching colors, images, custom margins, even custom CSS.
Site Origin Page Builder is available for FREE, so you can download and use it straightaway!
MotoPress Page Builder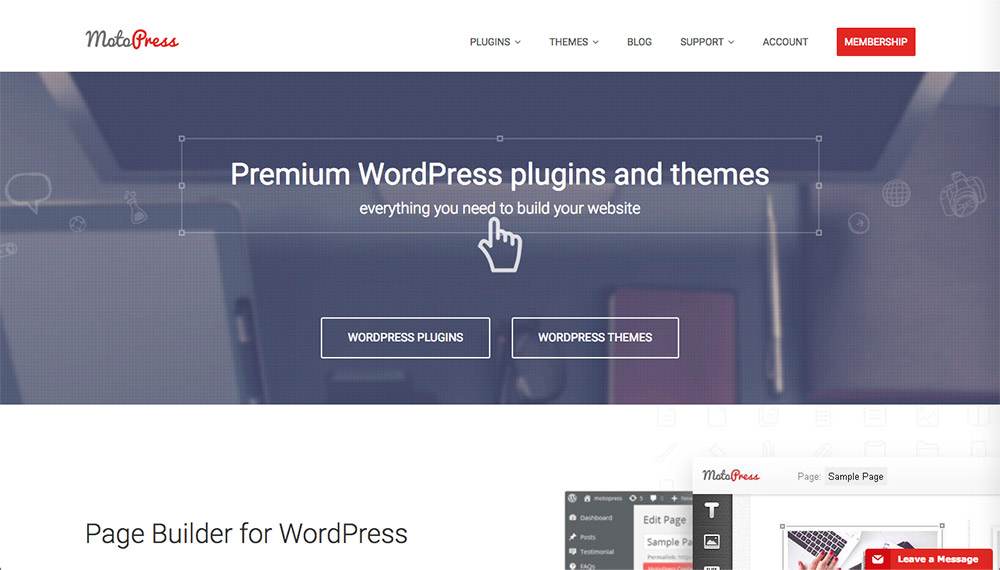 Claiming to work compatibly with any theme, MotoPress page builder is offered hand-in-hand with a wide range of elements in drag and drop fashion. When the competition between contested WordPress plugins is getting hot, MotoPress comes with plenty of options to use when it comes to building a site quickly and responsively.
Inserting text, image, slider, buttons, video, audio, table, or charts can be done simply using its content editor. You can also drag the widgets in the content area located on the top level menu item, allowing a more dynamic display in the layout page. Custom post type also gives you the ability to manage posts, including managing multi-author, select the language for the interface, as well as disabling the content editor for certain people. The default content page editor will give you access to the blank "canvas" and get a starting point to work on.
MotoPress plugin editor, I can say, can work seamlessly and more fluid than many of its competitors. One great thing about this page builder plugin is that users can insert the content into the page – alongside the formatted text. Save work twice.
Live Composer
Before page builder, building a landing page and customizing WordPress layouts is a nightmare for non-developers. Live Composer, along with other page builder plugins, give you easiness to build custom layout design without coding experience. This is one of the latest addition to WP page builder family, with some one-of-a-kind features to blow your mind.
The open source plugin comes with various elements, widgets, and prebuilt layout design to start the work, also allowing you to create custom a landing page with extensions and premium support for the paying customers. But you don't have to pay anything to create an extravagant website since its open source quality is enough to offer you its amazing features.
More than 30 modules are available to choose from, with live fronted editor ability to see the changes happened instantly and quickly restore anything if you don't like the end result. Now, designing portfolios, creating landing pages, and building an online shop can be over in a flash; Live Composer even supports developers to create and sell their unique themes without a developer license.
Gutenberg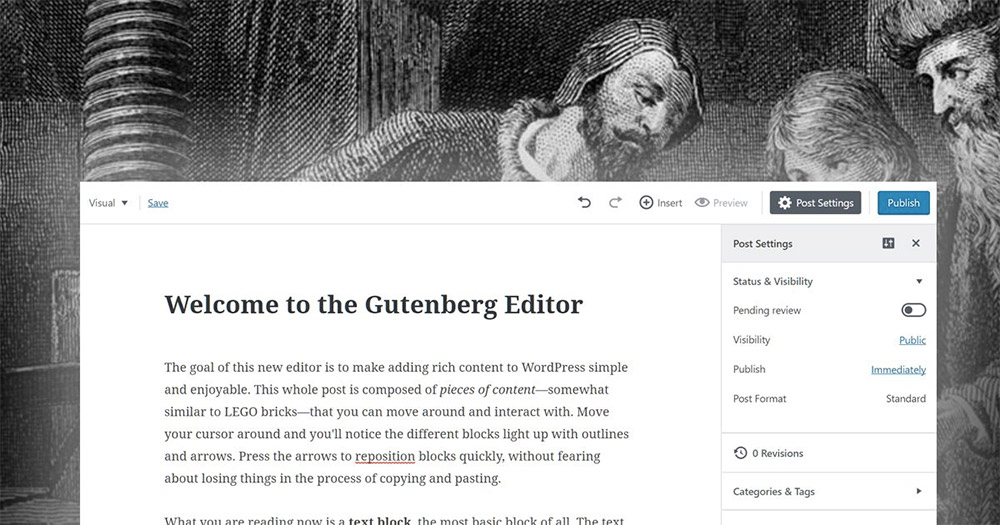 I don't know if you notice, but Gutenberg seems to start changing the way page builder plugin market nowadays. It's not always about building a site using predesigned layout, but more focus on customization project. Gutenberg allows a limitless ability to custom visually amazing layouts, emphasizing the importance of editing.
You'll see that the blocks feature multiple interfaces, allowing you to write, edit, and have publishing experience that's perfect for beginner and professional users. Making a highly-tailored site is more user-friendly, as Gutenberg from Automatic – the same originator that creates WordPress – continuously improving their module editing through planned stages.
The blocks are easily edited, moved up or down, added or deleted and are scales well with mobile devices. Gutenberg also allows users to access theme developers that will work seamlessly with WordPress version 4.8 and above.
Conclusion
From the review, I think we should agree that the crown still belongs to WPBakery Page Builder as an award-winning page builder plugin. Elementor also makes an excellent choice because it's light and always updated regularly by its developer.
Another choice would be, Thrive Architect which is very popular among internet marketer to create landing pages and sales pages.
Gutenberg is also ready making it's way, because the rumor is it's going to be included in WordPress 5.0. Can't wait to see how Gutenberg effect the page builder market share.
Do you agree with our pick? Let us know what you think by commenting on the section or subscribe if you think this article helps you find the best page builder plugin.