EDD Sales Notifications plugin brings you a whole new horizon in a way to increasing your revenue from selling digital products using Easy Digital Downloads plugin.
We have seen reports that indicates that displaying social proof to potential buyers in your landing page and help increase your revenue significantly.
EDD Sales Notifications is an add-on for Easy Digital Downloads (EDD) plugin. You will need EDD plugin to be able to use this add-on.
What you'll get:
1 year support & updates
Lifetime Unlimited Domains package will receive lifetime support & updates
40% discount for renewal
February 20, 2019
February 20, 2019
v1.1.0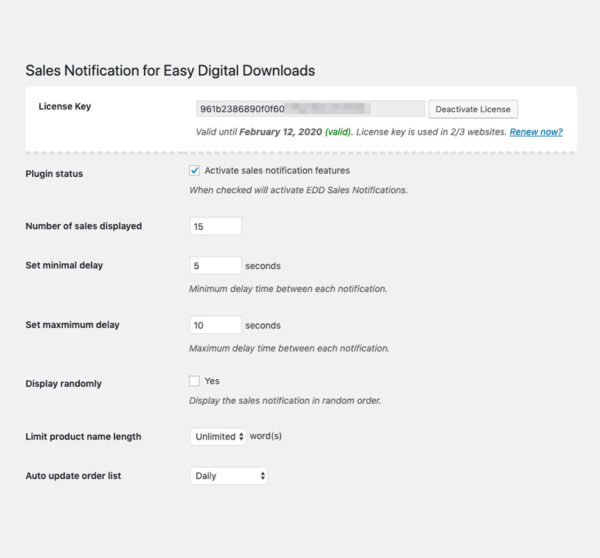 Plugin Settings
Easy to configure
Easily configure your Easy Digital Downloads sales notifications using the built-in plugin settings.
The settings have tons of options to help you get started in configuring the notifications.
Want to hide the buyers name or hide the purchase date? No problem, you can change it easily from the plugin setting page.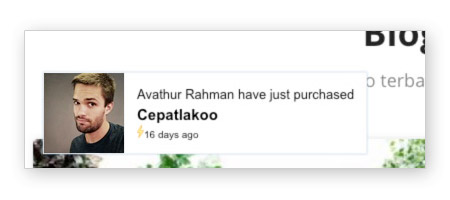 Slick and Intuitive
The notification will catch the site visitors eyes instantly because it' will pop out directly in to the screen displaying the recent sales one by one. The notification box will display in random delay time to make it look more natural.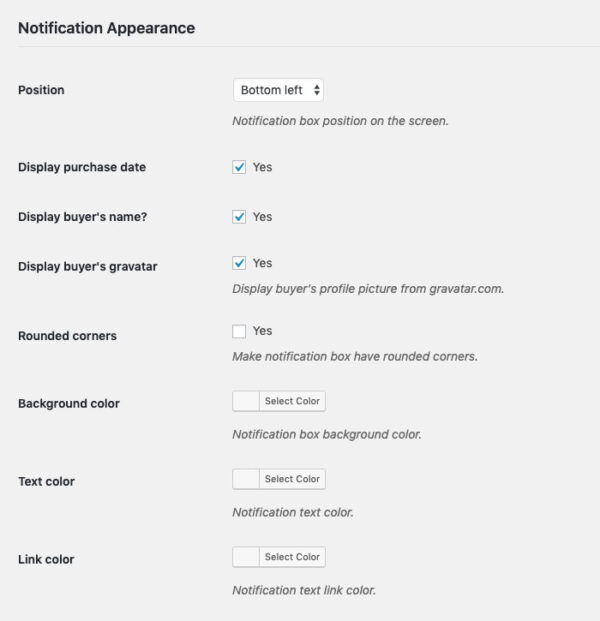 Styling Options
Style with ease of mind
Style the notification box the way you wanted it to look. There's a lot styling options to help you style the notification box with ease.
You can modify the background color, text color, text link color, notification box position and many more options.
Buyers Name

You can either display the buyers name in the notification or not.

Gravatar Support

Add more social proof to your notifications by displaying the buyer's Gravatar image.

Set Delay

You can easily set the delay range between notification.

Purchase Date

You can display or hide the purchase date by a single click.

Auto Update Orders

The order list displayed in the notifications is updated automatically (you can arrange this in the plugin setting).

Limit Notifications

There's an option to limit how many recent sales should be displayed to the visitors.

Styling Options

You can change how the notification box the way you wanted from the plugin settings page.

Set Notification Box Position

You can easily set the position of the notification box to appear on the screen.

Limit Product Name Length

Long product name can make notification box have a long width. You can limit numbers of words for the product name in the notification box before it's being cut off with an ellipsis.
Need Custom Work Done?
Use Our Service
We can help you with WordPress customisation or creating custom WordPress themes or plugins from scratch. Send us a message now.
Send Message